When are Fall Term classes?
Fall 2019 classes begin on August 26, 2019 and end on December 15, 2019. Full term fall classes last 16 weeks, or take either A or B Term classes for 8 weeks, or 12 week term classes. A-Term classes begin on August 26 and end on October 20, 2019. B-Term classes begin on September 23 and end on December 15, 2019. 12-Week term classes start on October 21 and end on December 15, 2019. You can view the full registration calendar here.
What courses are being offered during the Fall at Huber Heights?
Click below to the Registration Portal to see all courses offered and available sections. Click a course below to see available sections in the portal, and to plan your course schedule, and register for classes. New students please call 937-233-5550 for help enrolling or registration assistance at Huber Heights. Make sure to also talk to your academic advisor about staying on your MAP to graduating on time.
ALL HUBER HEIGHTS OPEN COURSES FOR FALL TERM
Click the course register link to see available open sections.
New to Sinclair?
Never registered for classes at Sinclair before? Make sure you have applied first.
Flexible Class Options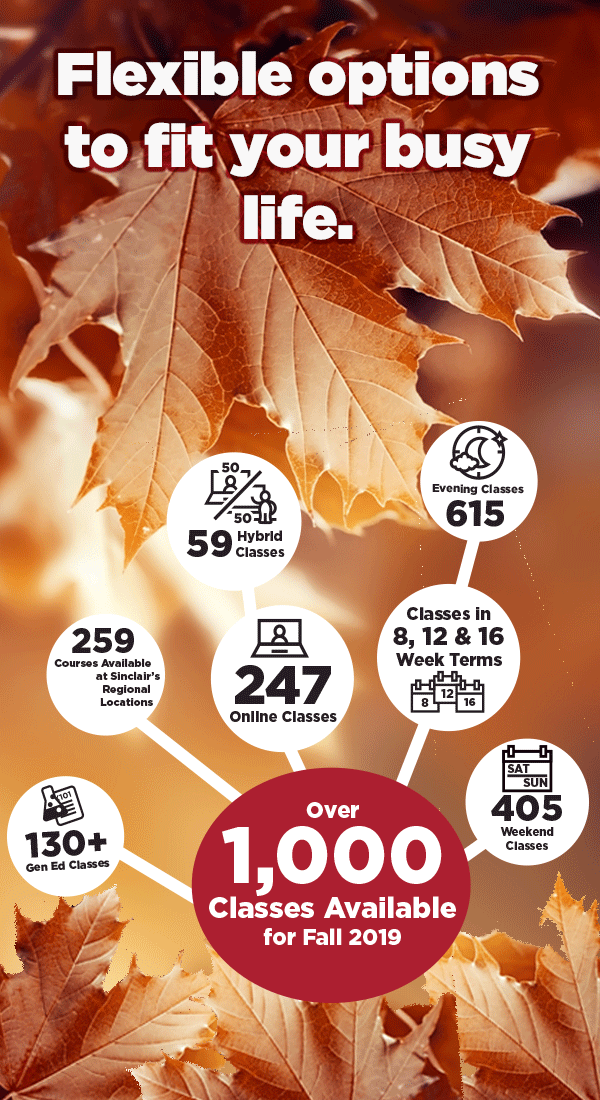 Get Help Paying for Classes
Fall Financial Aid might be available for you. The financial aid FAFSA guarantee processing date for Fall Semester 2019 is July 19, 2019. Sinclair's Online Scholarship System application dates for Fall Semester are June 1-30. Find out more about how you can pay for college with financial aid and scholarships and payment help with loans and/or payment plans.