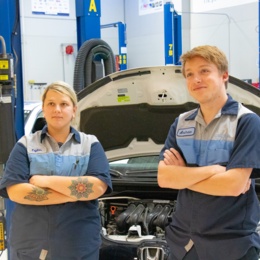 Scholarship creates a debt-free path to a 2-year degree in Automotive Technology
DAYTON, OH – The Sinclair College Foundation and General Motors Co. are partnering to launch the GM Dealer Technician Scholarship, a program that will offer fourteen Sinclair students enrolled in the GM Automotive Service Education Program (ASEP), with full-tuition scholarships.
"The automotive industry is a growing and high in-demand field," said Steve Johnson, President of Sinclair Community College. "Our mission as the largest community college in the Dayton region is to find opportunities to increase student success outcomes. Through this partnership with GM, we will be able to create a cost-effective and accessible career pathway for students. We are extremely grateful to GM for providing our Automotive students with full-tuition scholarships in a program that offers a number of work-based learning opportunities that lead to good-paying jobs."
The scholarship program, which will welcome its first class this fall 2019, includes co-op learning experiences at Chevrolet, Buick, GMC and Cadillac dealerships where students will work hand-in-hand with experienced technicians to maintain and repair today's high-tech vehicles. The end goal: full-time employment at one of more than 4,000 GM dealerships around the country.
"We're tearing down the barriers that stand in the way of people pursuing these good-paying, high-tech jobs," said Terry Rhadigan, executive director, GM Corporate Giving. "After two years, we want people to hit the ground running, so we will help them get a quality education, technical training and hands-on experience without the burden of student loans."
Nearly 95% of students enrolled in Sinclair's ASEP program are employed in the automotive field within one month of graduation.
General Motors Co. (NYSE:GM) has leadership positions in the world's largest and fastest-growing automotive markets. GM, its subsidiaries and joint venture entities sell vehicles under the Chevrolet, Cadillac, Baojun, Buick, GMC, Holden, Jiefang and Wuling brands. More information on the company and its subsidiaries, including OnStar, a global leader in vehicle safety, security and information services, can be found at http://www.gm.com.
Sinclair is recognized as a local and national leader in delivering high-quality and affordable higher education. One of the oldest and best-known community colleges in the nation, Sinclair was founded in 1887 by David A. Sinclair and is a board member of the prestigious League for Innovation in the Community College. Sinclair offers nearly 253 accredited degrees and certificates.
For more information, contact Deena John at 937-272-8208 or deena.john@sinclair.edu