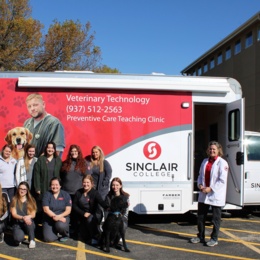 Students and faculty from the Sinclair Community College Veterinary Technology program will hold a special vaccination clinic at the Dayton campus on Friday, March 24, 2023. Faculty and students will use Sinclair's new mobile veterinary clinic to provide core preventive care vaccinations, deworming medication, and a free physical exam to a limited number of pets. The service is provided in conjunction with Boehringer-Ingelheim Pharmaceuticals.
Sinclair's mobile veterinary clinic was unveiled last year and comes equipped with the tools and equipment students will use to conduct exams, administer vaccinations, perform teeth cleaning, and administer medical tests to help diagnose animals' injuries and illnesses.
"This special clinic, and more in the future, will allow Sinclair's Veterinary Technology students and faculty to put their exceptional skills to work to protect pets and give back to the community," said Dr. Carolyn Reno, Chair – Sinclair College Veterinary Technology Department.
The event is free, but registration is required. Details about specific time and location will be given following registration. To register, call or email Sinclair's Veterinary Technology Department at 937-512-2563 or vettech@sinclair.edu.
###