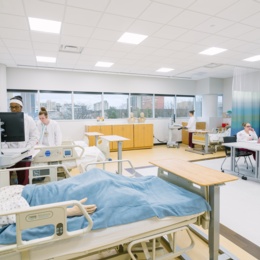 Sinclair College in Partnership with LeadingAge Ohio and ApprenticeOhio Launches Ohio's First Competency-Based STNA Apprenticeship Program
Dayton, OH – Sinclair College, in partnership with LeadingAge Ohio and ApprenticeOhio, will launch Ohio's first competency-based State Tested Nursing Assistant (STNA) health-care apprenticeship program. To celebrate the launch of the program, Sinclair and LeadingAge Ohio held a Kick-Off Event on Friday, November 15, 2019, at the college's state-of-the-art Ned J. Sifferlen Health Science Center.
The Apprenticeship program will connect individuals to in-demand jobs that offer advanced education and training in the health care field. The innovative competency-based apprenticeship model is the first of its kind in Ohio. Competency-based apprenticeships allow students to demonstrate their aptitude outside of the more structured approach of time-based apprenticeships.
Nearly 70% of health care providers that work with LeadingAge Ohio have unfilled STNA positions available throughout Southwest Ohio. According to local data, between January 2019 and October 2019, there were nearly 2,000 STNA job openings in Warren and Montgomery counties.
The STNA Apprenticeship program provides students the opportunity to take on a new in-demand career in health care and continue their education on a structured pathway from STNA to working as a Home Health Aide and Patient Care Technician.
"Increasing the much-needed pool of skilled workers in the health care sector is a state-wide effort," said Steve Johnson, President of Sinclair. "Sinclair is on the move in expanding partnerships with regional employers and connecting students to pathways that lead to careers that are in-demand. Partnering with LeadingAge in this effort, helps Ohio's employers gain the pipeline of workers they need and opens up opportunities for individuals to venture into a good-paying health-care field."
"We have urged our members to consider employees across their organizations for Sinclair Community College's competency-based apprenticeships," said LeadingAge Ohio President/CEO Kathryn Brod. "An apprenticeship can be a springboard into a career path that may not have been possible before, and can help build a stronger workforce for health-care and aging services providers - who are preparing for rising numbers of older adults in Ohio."
LeadingAge Ohio is a nonprofit trade association that represents approximately 400 long-term care organizations and hospices, as well as those providing ancillary health care and housing services, in more than 150 Ohio towns and cities. Sinclair is recognized as a local and national leader in delivering high-quality and affordable higher education. One of the oldest and best-known community colleges in the nation, Sinclair was founded in 1887 by David A. Sinclair and is a board member of the prestigious League for Innovation in the Community College. Sinclair offers more than 260 accredited degrees and certificates.
For more information, contact Deena John at 937-272-8200 or deena.john@sinclair.edu
###