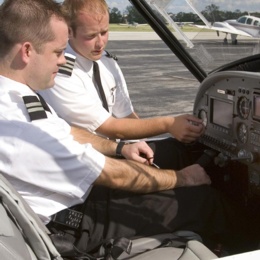 Sinclair Begins 2019 Fall Term with the Historic Launch of Two New Bachelor Degrees
Record number of high school students and students enrolled in online classes;
Launching 3 New Associate Degree Programs; 13 New Short-Term Certificate Programs;
3 New Certificate Programs
Dayton, OH – Sinclair Community College begins 2019 Fall Term with the historic launch of two new workforce aligned bachelor degree programs in Aviation Technology and Unmanned Aerial Systems.
The college will also launch the following new degree, certificate and short-term certificate programs:
New Associate Degree Programs
Agricultural Sciences Associate of Applied Science
Business Analytics Associate of Applied Science
Computer Science Associate of Arts
New Short-Term Technical Certificates
Agribusiness
Chemical Dependency Counselor Assistant (CDCA) II
Data Fundamentals
Dining Assistant
Large Animal Care & Handling
Legal Support Technician
New Media
Perioperative Nursing
RN Scrub
Social Work Aide (Offered through Advanced Job Training Program only)
New Certificates
Agricultural Technology
Social Work Specialist (Offered through Advanced Job Training Program only)
Social Work Technician (Offered through Advanced Job Training Program only)
"The demand for professional pilots is at an all-time high both within the region and throughout the world," said Clay Pittman, Chair of Aviation Technology at Sinclair Community College. "Sinclair College has a very strong aviation program and launching the new Aviation Pilot bachelor's degree program will help produce highly qualified pilots that can immediately enter into airline employment. UAS, on the other hand is a relatively new, rapidly expanding industry. Sinclair has a built a great reputation and is a leader in this growing area. We have strong connections with military, government and business UAS programs. Dayton has a strong business and technology base in this area, and Sinclair is committed to providing skilled graduates to support this growing industry."
Sinclair continually reviews its program offerings to ensure they are aligned with the needs of the community. The new associate degree programs were developed after feedback from potential employers and a thorough review of the regional labor market data.
Fall Enrollment Records:
More than 3,000 College Credit Plus students
More than 6,400 students enrolled in online classes
More than 115 American Indian (Native American) students
More than 250 students enrolled in Aviation Technology courses
More than 660 Hispanic students
Overall fall enrollment at Sinclair is at the same level as last fall, contrary to the state and national trend of declining enrollments being realized by many colleges.
In order to address wrap-around student support needs, beginning this Fall Semester, Sinclair's $15 million James McSwiney Welcome Center will be open to provide student support services from a centralized location. Sinclair's staff have been cross-trained in addressing student needs, and visitors to campus will know exactly how and where to begin their Sinclair experience.
Sinclair's most recent graduating class set new records, with over 5,500 students earning over 8,000 degrees and certificates. The college's overall student graduation rate has quadrupled over the past decade. Over ten years, the college has experienced more than a 400% increase in the number of degrees and certificates awarded to African American male students and over a 200% increase for minority students. The number of degrees and certificates earned by low-income students has also increased by more than 40% over the past ten years.
"Our work is not done just in helping students to complete a program of study," said Dr. Steve Johnson, President of Sinclair College. "We also need to make sure that these students are connected to the workforce in ways that help employers in our community. Sinclair will continue investing in student programs that meet workforce needs, drawing people from across the Dayton region. As the needs of the students and community change, we will work to adapt and modify what we do while never compromising our standards for transparency, academic integrity, and doing what is best for students."
Sinclair is recognized as a local and national leader in delivering high quality and affordable higher education. One of the oldest and best-known community colleges in the nation, Sinclair was founded in 1887 by David A. Sinclair and is a board member of the prestigious League for Innovation in the Community College. Sinclair offers more than 260 accredited degrees and certificates.
For more information, contact Deena John at 937-272-8208 or deena.john@sinclair.edu
###