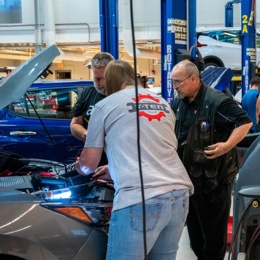 Sinclair Community College's Automotive Technology Department hosted an electric vehicle training program July 26-28, 2022, for instructors from across the country. The training was made possible by a grant from the National Science Foundation (NSF).
21 community college instructors from across the country participated in the 3-day workshop at the Sinclair Automotive Laboratories inside Building 20, the John E. Moore, Sr. Technology Center at the Dayton campus. The workshop was led by Sinclair Automotive instructors who provided training on the latest electric vehicle technology. The goal of the NSF program is to provide the skills and knowledge instructors need to prepare students for rewarding, in-demand jobs.
According to the U.S. Bureau of Labor Statistics, approximately 9,600 automotive electricians (electrical and electronics installers and repairers) job openings are projected each year through 2030 with a median annual wage of $61,760.
"As the hybrid and electric vehicle market continues to grow, Sinclair Community College remains committed to providing innovative programs to prepare instructors and students with the latest technical training to meet the growing workforce needs," said Justin Morgan, Chair – Sinclair Community College Automotive Technology Department. "Sinclair is proud to receive this funding from the National Science Foundation that will allow us to train a highly skilled workforce in new and emerging electric vehicle technologies."
Sinclair Community College recently received an additional 3-year, $602,000 NSF grant to continue electric vehicle training and to develop a new certificate program that will provide students with advanced training in high-voltage safety systems, removing/replacing batteries, servicing electric drive motors, and other skills needed to service electric vehicles. The grant will also allow Sinclair to recruit high school students from traditionally underrepresented groups for automotive summer camps designed to increase students' interest in taking automotive technician courses.
Sinclair's Automotive Technology Program offers multiple associate degrees and certificates and is the only college in the Midwest to offer the Tesla START program. Sinclair's program has two-year associate degree internship-based programs partnering with American Honda, Stellantis Automobiles, and General Motors to prepare students for entry-level automotive service technician positions at local dealerships. Additionally, Sinclair has a two-year associate degree internship-based program that works with independent shops and other dealerships throughout the region. The automotive program is accredited by the Automotive Service Excellence (ASE) Education Foundation and offers daytime and evening courses. Learn more at sinclair.edu/automotive.