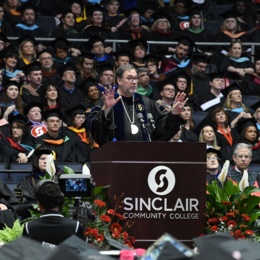 Sinclair College Brings to Close an Exceptional 2018-2019 Fiscal Year
Set several student success records, earned approval to launch two new Bachelor's degree programs, opened a new Centerville campus location and ranked number 1 in the nation to offer work-based learning programs
DAYTON, OH – Sinclair Community College completed an exceptional 2018-2019 fiscal year on June 30th, 2019. Among a list of milestone accomplishments this year, the college set several student success records, acquired a new campus location in Centerville, earned the right to award bachelor degrees and ranked number one in the nation to offer work-based learning programs.
Sinclair remains an anchor institution of downtown Dayton with continued investments in the Dayton region –positioning the college to provide top-quality, world-class educational programs and facilities.
Sinclair is currently opening the $15 million-dollar James McSwiney Welcome Center, located in Building 10, fall of 2019. The Center establishes the college's front door to the community and provides a centralized location to address wrap-around student support needs. College's staff have been cross-trained in addressing student needs and visitors to campus will know exactly how and where to begin their Sinclair experience.
"Yet again, another remarkable year for Sinclair," said Sinclair College President, Steve Johnson. "Perhaps most important, at our commencement ceremony we celebrated another record year of 8,000 degrees and certificates that were completed by nearly 5,500 students. I am incredibly proud of everything our college has been able to accomplish up until this point. We look forward to the upcoming year and I am energized by the great things Sinclair will be doing for the region in the months and years to come."
Sinclair's 2019 Commencement ceremony witnessed the largest graduating class in the history of the college – 30% larger than the 2018 graduating class. The college witnessed a record number of African American, low-income, minority, military-affiliated and international student graduates. The number of African American male graduates increased by nearly 78% increase since 2018. The college's Prison Education Program handed out a record-number of credentials to incarcerated individuals with job-ready skills needed for re-entry into society and the workforce.
Over the past ten years, students have earned over 40,000 degrees and certificates from Sinclair College. These credentials will result in increased earnings and opportunities for students and their families and help expand the workforce of the Dayton Region. Nearly 90% of Sinclair graduates stay in this community.
Sinclair is recognized as a local and national leader in delivering high-quality and affordable higher education. One of the oldest and best-known community colleges in the nation, Sinclair was founded in 1887 by David A. Sinclair and is a board member of the prestigious League for Innovation in the Community College.
Sinclair offers nearly 260 accredited degrees and certificates. For more information visit www.sinclair.edu. For more information, contact Deena John at 937-272-8208 or deena.john@sinclair.edu.
####