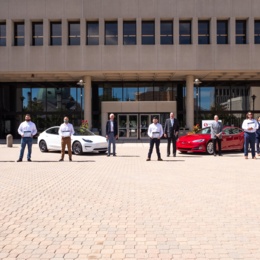 Sinclair Community College is recognizing and celebrating the first graduates from the Tesla START Program, an accelerated 12-week program designed to equip students with the skills necessary to become electric vehicle technicians at Tesla.
The eight graduates were honored during a special ceremony, complete with COVID-19 safety and social distancing protocols, on Friday, September 4, 2020, inside Building 12's Great Hall on the campus of Sinclair Community College.
"As a result of this innovative partnership with Tesla, our students are receiving first-rate training from the company at the forefront of electric vehicle technology," remarked Justin Morgan, Chair, Automotive Technology – Sinclair Community College. "Students in the Tesla START Program develop technical expertise, while earning certifications, and prepare for an exciting career with Tesla, as an electric vehicle service technician."
During the course of the program, students are paid by Tesla, similar to an internship, while they participate in a blended approach of in-class theory, hands-on labs and self-paced learning. Upon successful completion of the program, Tesla works with students to find job placement at a Tesla Service Center in North America. As a result, START provides students with a smooth transition from college to full-time employment.
"The partnership between Sinclair and Tesla has provided a remarkable opportunity for my career," said Tyson Kothlow, Sinclair Tesla START Program graduate. "Tesla START at Sinclair is an intense, fast-paced program that leads to an opportunity to begin a career with the company at the forefront of electric vehicle technology."
Tesla provides the instructor, curriculum, training equipment, vehicles, and tools. Students learn skills that are unique to electric vehicles including battery architecture, charging technology, and Tesla-specific repair procedures.
Sinclair is the only college in the Midwest to offer the Tesla START program. Tesla START is also offered at colleges in Los Angeles, Miami, San Jose, Seattle, and Charlotte.
Sinclair's Automotive Technology program currently partners with over 25 employers in the Dayton region, providing students with work-based learning opportunities that are critical to preparing them for careers in the automotive service industry.
To learn more about the Tesla START Program at Sinclair, visit:
https://www.sinclair.edu/academics/divisions/sme/aut/tesla-start-program/
To learn more about the Tesla START program, visit: https://www.tesla.com/careers/tesla-start
For details on all of Sinclair Community College's academic offerings, visit: https://www.sinclair.edu/
September 10, 2020