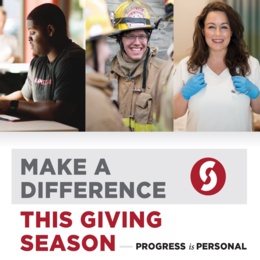 The Sinclair College Foundation is launching its 2021 giving campaign with a renewed focus on meeting the needs of students through the College's emergency funds. The giving campaign will launch on "Giving Tuesday," November 30th and run through early January 2022.
Since 2020, Sinclair College Emergency Funds have delivered 484 grants totaling $160,000 to students undergoing personal financial challenges. The grants are designed to support issues like immediate housing needs, utilities, food insecurity, and tools required for skilled trades programs.
"I had an emergency grant that really helped me. I didn't have a job when I first started at Sinclair and that made it challenging for me to have funds to pay for school and bills. The emergency grant helped cover my bills," said Mia Sylvester, Sinclair College biology major and 2020 emergency grant recipient. "I am so thankful for the support I've been given. Now I have a further chance of advancing my career and doing more in this world."
The Sinclair College Foundation's Emergency Funds include:
Incipio Fund (Git-R-Done Fund)
The Incipio Fund was established to help Sinclair students who have nearly completed their degree or certificate with a non-tuition expense that is preventing them from finishing. These students have done the majority of the work to complete their schooling but need the financial assistance to propel them across the finish line.
Food Insecurity and Student Stability Fund
Sometimes students are faced with an acute challenge in their home life that has the potential to derail their progress toward completing their studies. The Food Insecurity and Student Stability Fund was established to provide students with the resources they need to directly meet the challenge of food insecurity and other emergency needs.
Dr. Charles C. Williams, Jr. and Sonya Kirkwood-Williams Emergency Fund
The Dr. Charles C. Williams, Jr. and Sonya Kirkwood-Williams Emergency Fund was established to help cover unexpected expenses of a one-time student emergency. In times of desperate need, this fund assists students who are facing challenges in situations such as housing, groceries, utilities, technology equipment, or child-care.
The Cleverly Family Fund (Tools and Equipment)
Not only do skilled trade students have to pay tuition fees, but they also must purchase many tools, supplies, and equipment out of pocket. The Cleverly Family Fund was established to assist these students with purchasing the necessary tools and equipment to gain proficiency in their trade and get the necessary hands-on experience needed to secure a job after graduation. Examples of how donations are used:
o $30 Scrubs for a Health Sciences student
o $100 Advanced pastry set
o $175 RTA semester pass
o $200 Samsung tablet
o $550 Dell laptop computer from the Sinclair Bookstore
o $1,392 Tuition and fees for one full-time, in-county student for one semester
"The generosity of the community and Sinclair College employees makes a tremendous difference in the lives of students who are facing enormous challenges during the COVID-19 global pandemic," added Zachary J. Beck, Chief Development Officer – Sinclair Foundation. "During this season of giving, the support we receive aligns directly with the College's mission to find the need and endeavor to meet it and keep our students on the path to academic and career success."
The Sinclair Foundation's mission is to keep higher education accessible through student scholarships and to help Sinclair remain among the nation's leading community colleges.
To support Sinclair's 2021 Giving Campaign, visit sinclair.edu/giving-season. Donations can be made directly online.