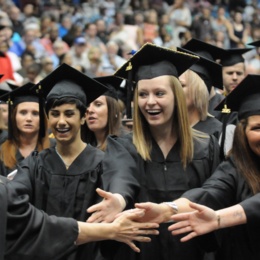 July 23, 2019 -- Sinclair was recently recognized as the most affordable community college in Ohio and ranked # 21 most affordable nationally out of nearly 1,000 public community colleges nation-wide. The ranking is based on the net tuition price from the US Department of Education's annual "College Affordability and Transparency List".
"At a time when college costs are increasing, Sinclair is as an extremely affordable and high-quality option for students," said Steve Johnson, President of Sinclair College. "We realize that a college education is one of the most important decisions a student makes for the rest of their lives and that is why we continue to pursue affordable career pathways for students. We have an obligation to help every student complete a credential so that they can get a meaningful job, change their lives for the better, and make a difference for their community."
Sinclair has worked tirelessly to increase student success rates among low-income, first generation students, and students of color. These are ongoing efforts, accomplished through dedicated college resources as well as generous support from philanthropic organizations including the Bill & Melinda Gates Foundation.
Over the years, Sinclair has been able to meet student needs through a number of grant-funded initiatives like the Skills to Work program through the Ohio of Department of Higher Education (ODHE).The program aims at providing tuition support for students pursuing in-demand short-term certificate programs. Many of these short-term certificate programs are embedded within associate degree programs that allow students the opportunity to work while pursuing further education.
"Sinclair was recognized nationally as number one in the nation to provide work-based learning programs," said Steve Johnson, President at Sinclair College. "We offer over a 110 short-term certificate programs that students can complete in less than a year and we have worked directly with employers to develop these pathways. Many of these certificate programs have helped students who have wanted to spend less time in school and more time gaining real-life work experience."
Sinclair was also recently awarded $15,000 in grant funding by the ODHE to support fifteen former foster youth who are interested in pursuing a short-term certificate in Nurse Aid Training. The program is designed to take less than one year and will provide students the opportunities and skills needed for a successful career-pathway.
In order to further improve affordability and services to students, Sinclair is transitioning from a traditional to an online virtual bookstore model that presents opportunities for saving students 20-30% in textbook costs.
Sinclair is recognized as a local and national leader in delivering high-quality and affordable higher education. One of the oldest and best-known community colleges in the nation, Sinclair was founded in 1887 by David A. Sinclair and is a board member of the prestigious League for Innovation in the Community College.
Sinclair offers more than 260 accredited degrees and certificates. For more information, contact Deena John at 937-272-8208 or deena.john@sinclair.edu.