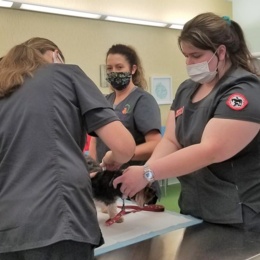 Sinclair Community College Veterinary Technology students and faculty have volunteered 144 hours during two recent events sponsored by SICSA Pet Adoption & Wellness Center. The most recent Community Veterinary Care wellness event took place at the Lakewood Apartments in Dayton on September 17th. Sinclair student and faculty volunteers assisted SICSA with helping 94 animals (62 dogs and 32 cats) from 73 homes. The students and faculty assisted with administering vaccines, flea preventatives, and deworming treatments.
"Our partnership with SICSA Pet Adoption & Wellness Center allows our Vet Tech students to gain valuable hands-on experience and give back to the community," said Carolyn Reno, Chair – Sinclair Community College Veterinary Technology Department. "Sinclair's Vet Tech students and faculty are putting their exceptional training and skills to work to protect pets in our community."
In June, 19 Sinclair Vet Tech students and several faculty members volunteered with SICSA to help 52 families and 71 pets (24 cats and 47 dogs). A third event is planned for later this fall.
"Partnering with the Sinclair RVT program has been rewarding on several levels," added SICSA President and CEO Nora Vondrell. "The partnership has allowed the Community Veterinary Care Program to extend our services to more clients in need. It has also allowed us to interact with and potentially influence students who someday may want to work in shelter medicine as a result. A win/win/win for the community," concluded Vondrell.

Sinclair's Associate of Applied Science degree in Veterinary Technology is designed to train students to assist veterinarians in animal hospitals, laboratory research centers, referral centers, zoos, and other animal facilities. A registered veterinary technician (RVT) is responsible for assisting the veterinarian in a general practice and performing essential animal care tasks. Sinclair's program provides training in animal husbandry and restraint, nursing, surgical preparation and techniques, drug administration, anesthesia, anatomy, laboratory techniques, and radiography. Nearly all of Sinclair's Vet Tech students are offered one or more jobs prior to the completion of the program.
Over the last 3 years, 60 students have graduated from Sinclair with associate degrees in Veterinary Technology. Learn more at this link.
Photo Caption:
Sinclair College Veterinary Technology students Kristen Ward (right) and Chelsea Argoa (left) administer a vaccination shot during a SICSA Pet Adoption & Wellness Center event in September.