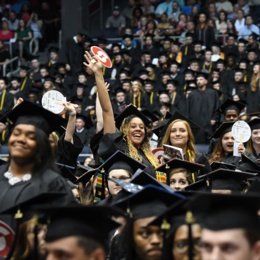 The COIL initiative, a program established to enhance global learning experiences for students, kicked-off this year with nearly 80 students enrolled in the program
Students say that the learning experience is invaluable and is preparing them from for a global workforce
An international partnership established with a Japanese Higher-Education Institution is making significant strides at Sinclair College. The US-Japan Collaborative Online International Learning Initiative (COIL), launched this fall term with over 80 students in the program and is another innovative way in which Sinclair is working to engage more students in global learning experiences.
Sinclair was selected by the American Council on Education (ACE), as one of six U.S. colleges and universities to be part of the initiative. Funded by the ACE, the program allowed Sinclair students as well the students from Japan, to collaboratively engage in a three-week learning module focused on Art History.
The goal of COIL is to expand opportunities for greater numbers of students enrolled at collaborating institutions to gain international exposure. The American Council on Education recognizes the COIL model as a cost-effective, accessible method for delivering global learning and intercultural experience to a greater number of U.S students.
"This is an excellent opportunity for Sinclair students who may not have the means to interact with students abroad, to learn more about different cultures, virtually meet students from other parts of the world and collaborate on projects," said Deborah Gavlik, Sinclair's International Education Office Director.
"It's an honor to be the only community college selected for this partnership," said Steve Johnson, President at Sinclair Community College. "Sinclair has seen tremendous growth in student success and completion over the past several years and it is great that we now have the opportunity to extend our efforts across international boundaries through online learning. Our International Education department is focused on building global awareness and developing global partnerships and through the COIL initiative, we are able to continue this effort. The program is helping our students and the region to be prepared for success in an increasingly global environment."
Sinclair Community College has a strong history of internationalizing its curriculum and implementing significant inter-institutional collaborations. The very location of Sinclair's urban campus in the city of Dayton, where 28 languages are spoken and 43 community associations serve immigrants, provides a community environment conducive to Sinclair's internationalization efforts.
Sinclair is recognized as a local and national leader in delivering high quality and affordable higher education. One of the oldest and best-known community colleges in the nation, Sinclair was founded in 1887 by David A. Sinclair and is a board member of the prestigious League for Innovation in the Community College. Sinclair offers more than 260 accredited degrees and certificates.
For more information, contact Deena John at 937-272-8208 or deena.john@sinclair.edu
###