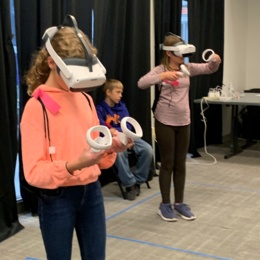 Sinclair Community College and partners from industry, education, and community organizations launched the first Warren County STEM Exploration Fair on Wednesday, October 19, 2022, hosting Waynesville Elementary School at the Countryside YMCA in Lebanon. More than 130 sixth graders participated in hands-on activities exploring science, technology, engineering, and mathematics (STEM) education and careers.
Sinclair Community College received a $50,000 grant from the Fleck Trust to launch the pilot program that brings hands-on STEM activities to students. The goal of the program is to expose students to careers in advanced manufacturing, automation, and robotics technology, and show them how their skills and abilities are needed to fill the growing number of jobs in these vibrant industries.
Sinclair is partnering with Junior Achievement, Countryside YMCA, the Advanced Manufacturing Industry Partnership (AMIP), Ernst & Young (EY), Festo, and the Warren County Sheriff's Office.
"Sinclair Community College is thrilled to be working with so many partners throughout Warren County to collectively spark interest in STEM careers," said Madeline Iseli, Senior Vice President – Advancement and Regional Strategy. "The staff from Sinclair's Courseview Campus in Mason and our team from the Office of Work-Based Learning recognize that collaboration is key to building a highly skilled workforce."
Workshops at the Warren County STEM Exploration Fair included building robots with Thames & Kosmos Geckobot STEM Kits, virtual reality career exploration through VR headsets, teambuilding exercises, and drone demonstrations by the Warren County Sheriff's Office.
Countryside YMCA provided space for the event and Junior Achievement provided five days of STEM-related programming at no cost to partner schools for students to prepare for their experience. Festo Didactic demonstrated bionic technology and Sean Kelley, Executive Director, AMIP, served as the keynote speaker.
The next Warren County STEM Exploration Fair will be held in November for Little Miami Middle School. The Greater Ohio Virtual School and John K. Lazarus Alternative School will be hosted at the fair in December.
Schools and businesses interested in participating in the Warren County STEM Exploration Fairs can contact Jennifer Maynard at Sinclair's Mason Campus at 937-512-5531 or jennifer.maynard1412@sinclair.edu.