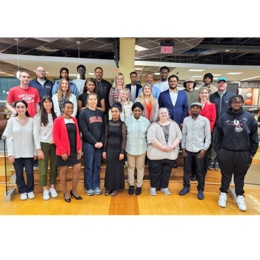 Sinclair Community College is celebrating students who participated in the Louis Stokes Alliance for Minority Participation (LSAMP) Program as they prepare to graduate this week. Sinclair is one of 10 higher education institutions involved in the Ohio LSAMP Alliance that assists colleges and universities with significantly increasing underrepresented minority student recruitment, retention, persistence, and attainment of science, technology, engineering, and mathematics (STEM) degrees. Louis Stokes was an attorney, civil rights pioneer, and the first African American congressman to represent Ohio. He served 15 terms in the U.S. House of Representatives.
Sinclair's graduating 2023 LSAMP Scholars:
Aimable Kzintwari
(Served 3 years in Sinclair's LSAMP Program)
Accepted to the University of Dayton and will be pursuing a bachelor's degree in mechanical engineering this fall.
Nicole Owino
(Served 3 years in Sinclair's LSAMP Program)
Accepted to several colleges including the University of Dayton, University of Cincinnati, Wilmington College, and Wright State University. Nicole plans to pursue a bachelor's degree in biological sciences or biomedical engineering.
Nevaeh Melton
(Served 3 years in Sinclair's LSAMP Program)
Accepted to The Ohio State University and will be pursuing a Bachelor of Science in Health and Rehabilitation Sciences this fall.
Yop C G Wash Bird
(Served 1 year in Sinclair's LSAMP Program)
Will be taking the Medical College Admission Test (MCAT) and applying to Wright State University Medical School.
Tarez Gray
(Served 2 years in Sinclair's LSAMP Program)
Graduated this past December and is now pursuing a chemical engineering degree at the University of Dayton.
Sinclair's LSAMP Scholars were honored during a special end of year celebration on Friday, April 28, 2023.
The event featured a special pinning ceremony for the graduating scholars. In addition, all of the students participating in the LSAMP Program at Sinclair Community College were recognized along with faculty members who serve as mentors.
"Sinclair Community College is proud to honor our LSAMP students and recognize their tremendous accomplishments. The LSAMP Program aligns with Sinclair's mission to find the need and endeavor to meet it by providing the mentoring and guidance on their journey to academic and career success in STEM fields," said Marita K. Abram, LSAMP Principal Investigator and Associate Professor, Sinclair Community College Department of Biological Sciences.
As part of the program, Sinclair Community College also offers the LSAMP Summer Bridge Institute that gives students a hands-on preview of a variety of STEM programs. For one week during the summer, students meet Sinclair's STEM faculty, tour classrooms and labs, develop study skills to be successful, receive specialized instruction for college-level courses, and learn time and stress management skills. The students also participate in immersive, hands-on activities in mathematics, biology, chemistry, and physics. Launched in 2013, Sinclair's LSAMP Summer Bridge Institute is funded through a grant from the National Science Foundation.
Learn more about the program at: www.sinclair.edu/lsamp.
###