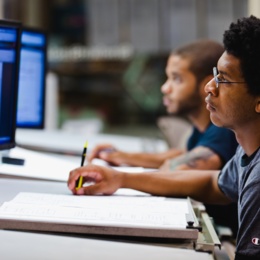 TechCred helps Ohioans learn new skills and helps employers build a stronger workforce with the skills needed in a technology-infused economy. Learn more about TechCred by visiting https://techcred.ohio.gov.
After employers identify skills needs and employees who could be trained to meet those needs, employers partner with a credential provider such as Sinclair, then apply online at https://techcred.ohio.gov/wps/portal/gov/techcred/apply. If the application is accepted, employees enroll in their credential program of choice, and employers will receive up to $2,000 in compensation once proof of completion of the degree is provided.
Lt. Governor Jon Husted visited Sinclair Community College Tuesday, October 8, 2019, as part of the statewide workforce tour, promoting the launch of TechCred.
The purpose of the visit was to promote the launch of the TechCred program and to partner with Sinclair in creating apprenticeships and work-based training opportunities for students and incumbent workers to be better prepared for the workforce.
"We are extremely honored to have Lt. Governor Jon Husted visit our college," said Steve Johnson, president of Sinclair College. "Sinclair has made tremendous progress in providing students workforce aligned academic programs and opportunities to get hands-on training. We are constantly looking for opportunities to expand our partnerships with regional employers and adding new academic pathways to make sure our students are well prepared for the workforce. We've also invested in state-of-art training facilities to provide in-house training for our students so that they can learn with the best equipment."
Sinclair offers dozens of industry-aligned tech credentials in areas such as:
Computer-Aided Drafting
Programmable Logic Controllers
Industrial Maintenance
Mechatronics
Automation
Robotic Programming
Computer Numeric Control
Healthcare Information Technology
Cloud Computing
Web Development
Computer Programming
Computer Networking
Cyber Security
Computer Hardware and Support
Computer Servers and Infrastructure
Drone Technology
Vehicle Electronic Systems
And many more
Sinclair also currently offers six Apprenticeship Programs in Electrical Maintenance, Mechanical Maintenance, HVAC (Heating Ventilation and Air Condition) Install/Service and Machinist and Cybersecurity. Apprenticeship programs were first offered at Sinclair in the Spring of 2018 with only six apprentices. Today, the program has forty-six apprentices. Employers that students work with include Dmax, Crane1, Waibel Energy Systems, and EES Facility Services. Although employer sponsorship is not required, Sinclair's Apprenticeship Programs are all employer-sponsored. Employers that Sinclair has partnered with spend between $900-1100 a semester on their apprentices to cover the cost for tuition, textbooks, and other fees.
Sinclair is recognized as a local and national leader in delivering high quality and affordable higher education. One of the oldest and best-known community colleges in the nation, Sinclair, was founded in 1887 by David A. Sinclair and is a board member of the prestigious League for Innovation in the Community College.
Sinclair offers more than 260 accredited degrees and certificate programs. For more information, contact Deena John at 937-272-8208 or deena.john@sinclair.edu.