Exercise Science
EXSC.S.AAS
Associate of Applied Science - 62 Credit Hours
Division: Health Sciences
Department: Exercise Science
Effective as of Fall 2023
What is the program about?
The Associate of Applied Science in Exercise Science is offered as a continuation of the Exercise Specialist certificate. This two-year degree gives students the opportunity to study in-depth principles and methods of fitness training and health promotion. Students have the opportunity to enter professional practice or transfer for completion of a baccalaureate degree. Students are required to demonstrate competency by earning a C grade or better in all ENS courses for their degree. Students will need to be in good standing before department approval is given for Practicum. Note: For students under age 18 there may be restrictions on participating in certain Health Sciences programs. Any student under age 18 must contact the program director/department chair to discuss whether he or she may enroll. This degree program contains one or more embedded certificates which will be automatically awarded when the certificate requirements are completed. If you do not want to receive the embedded certificate(s), please notify Registration and Student Records at studentrecords@sinclair.edu.
Program Outcomes
Apply personal health concepts and be able to explain the significance of physical activity and health promotion and its importance to society.
Interpret and apply best practice and work within their scope of practice.
Analyze the principles of the biological aspects of movement and to be able to administer a wide variety of fitness evaluation assessments for exercise prescription.
Organize and develop a variety of fitness and health promotion programming.
Career Opportunities
Employment for the health fitness professional is expected to increase. Aging baby boomers, one group that is increasingly becoming concerned with staying healthy and physically fit, will be the main driver of employment growth. An additional factor is the combination of a reduction in the number of physical education programs in schools with parents' growing concern about childhood obesity. This factor will increase the need for health fitness professionals to work with children in non-school settings, such as health clubs. Increasingly, parents also are hiring personal trainers for their children, and the number of weight-training gyms for children is expected to continue to grow. Businesses are also recognizing the benefits of health promotion and fitness programs for their employees. Health care reform and preventative medicine are other factors that are influencing growth.
Transferability
Formal articulation agreements with other colleges and universities indicate how Sinclair programs and courses will transfer to other institutions.
Credentials
Students will be prepared to take the American College of Sports Medicine, American Council on Exercise and other NCCA (National Commission for Certifying Agencies) accredited certification exams.
Additional Information
Click here to view the EXSC student information packet.
This program is available in the following format: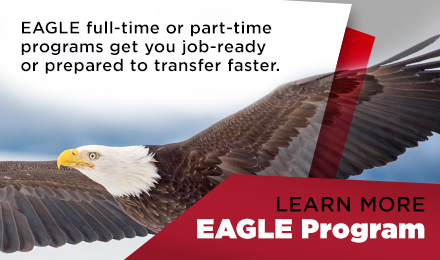 Program Retention Rates
| Academic Year | Retention Rate | Graduation Rate |
| --- | --- | --- |
| AY 2021 | 78% | 56% |
| AY 2020 | 88% | 50% |
| AY 2019 | 70% | 65% |
- View the Master Syllabus - View the Course Schedule
Program Accreditation Information
The Sinclair Community College's Exercise Science associate degree program is accredited by the Commission on Accreditation of Allied Health Education Programs (www.caahep.org) upon the recommendation of the Committee on Accreditation for the Exercise Sciences (CoAES). Commission on Accreditation of Allied Health Education Programs, 9355 - 113th St. N, #7709, Seminole, FL 33775.
This information is for planning purposes only. Sinclair College will make every effort to offer curriculum listed above but reserves the right to change, add and cancel curriculum offerings for unforeseen circumstances.