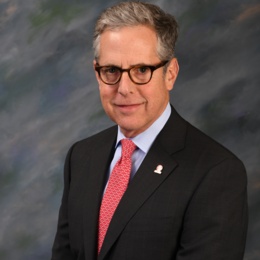 OACC Recognizes Sinclair Trustee Rob Connelly for Outstanding Leadership
Connelly honored with the 2019 Maureen C. Grady Award of Special Achievement
Dayton, OH – Sinclair College Trustee and CEO of Henny Penny Corporation, Robert M. Connelly, was recently honored with the 2019 Maureen C. Grady Award of Special Achievement by the Ohio Association of Community Colleges. The award recognizes community college trustees who have demonstrated extraordinary leadership throughout the term of their service as a trustee.
Mr. Connelly has served on the Board of Trustees of Sinclair Community College since November 10, 2009. He is currently in his second term as a Trustee, and has served as Sinclair's Finance Committee Chair. Mr. Connelly served as Board Chairperson and currently as the Chair of the college's Strategic Planning Committee.
During Mr. Connelly's tenure, Sinclair has undertaken several significant projects that have proven vital to the college's future. He has been instrumental in the development and support of a number of innovative programs including:
The development of Sinclair's National UAS Training and Certification Center. The center provides leading-edge capabilities for Unmanned Aerial Systems (UAS) and is one of the only programs in the nation to provide training for both manned aviation and UAS.
Championing the expansion of Sinclair's health care programs, both in capacity and innovation, and building a new Ned J. Sifferlen Health Sciences Center.
Development of Sinclair's Strategic Planning priorities and adopting a new mission statement and strategic priorities to ensure that Sinclair continues to increase its role in serving the community.
Addressing low college attainment for African American Males and leading the College Board in approving a special $1 million allocation designated to new student success initiatives aimed at increasing the success rates for African-American Males.
Passage of the 2017 Montgomery County Property tax levy at a record 74% of the vote.
"Rob embodies Sinclair's commitment to outstanding leadership and dedication to students," said Sinclair College Board Chair, Dan Sadlier. "I've worked with Rob for a number of years and he has played a leading role in several strategic initiatives at Sinclair College. He is passionate about community and has genuine compassion for the challenges and needs of the students in our region."
Sinclair is recognized as a local and national leader in delivering high quality and affordable higher education. One of the oldest and best-known community colleges in the nation, Sinclair was founded in 1887 by David A. Sinclair and is a board member of the prestigious League for Innovation in the Community College. Sinclair offers nearly 260 accredited degrees and certificates. For more information visit www.sinclair.edu
For more information, contact Deena John at 937-272-8208 or deena.john@sinclair.edu
###