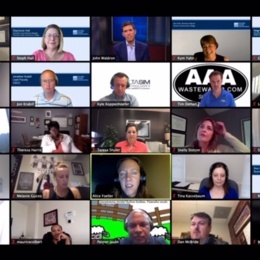 Sinclair College is celebrating the first graduating class of the Goldman Sachs 10,000 Small Businesses (10KSB) Program. 16 Dayton-area entrepreneurs successfully completed the vigorous 15-week, virtual program in December 2020.
This unique partnership between Sinclair College and Goldman Sachs promotes job creation and growth opportunities for local entrepreneurs and small businesses by providing access to business education, capital and support services. The program is offered at no cost to selected business owners who receive a full scholarship funded by the Goldman Sachs Foundation.
The 16 Dayton-area businesses that participated in the program have a combined total of 130 employees.
"Sinclair's Goldman Sachs 10KSB Program provides access to resources and networking opportunities on a global stage," said Gail Francis Johnson, President – Cognitians, LLC. Johnson's company is a leading provider of pre-trial diversion education and innovative solutions that develops cognitive life skills and second chance opportunities. Cognitians, LLC also provides experiential and culturally sensitive marketing programs through community engagement and development of signature programs for diverse stakeholders, non-profits, municipal and county agencies. "As a result of the coaching, curriculum, ideas, and relationships I acquired through this program, I now have a refined strategy that will help me actualize growth for my business."
Program participants receive one-on-one business advising and learn alongside peers from a variety of industries. Graduates leave the program with a specific 5-year growth plan tailored to their business and is immediately implementable.
"The program outlines practical strategies to address issues that are on the minds of every small business owner including access to capital resources, talent recruitment, and marketing," added Timothy DeHart, President – AAA Wastewater. DeHart's company has been serving the greater Dayton and Cincinnati area for over 67 years and provides cleaning, repairing, replacing and jetting services for septic tanks, grease traps, holding tanks, lift stations, food processing plants and waste water treatment facilities. "Not only does the program strengthen your knowledge, but it also puts you in a growth mindset which was fantastic for me as we look to expand our workforce and our footprint in the Dayton and Cincinnati region."
According to the Goldman Sachs Foundation, 67% of the program's alumni reported increased revenues and 47% added new jobs within six months of graduating.
"As a small business owner, many resources seem out of reach or you simply don't have the knowledge of what is available to help your company grow, but this program pushes you past the fear and provides an arsenal of tools and ideas you can put in place immediately," said Errin Siske, Founder/Creative Director – Spark Space Creative. Siske's company partners with nonprofit organizations to build their brands, tell their stories, and elevate their products by offering print and web design, creative direction, and social media services. "After completing Sinclair's Goldman Sachs 10KSB Program, we have a renewed confidence and a solid course for growing our business."
Sinclair Workforce Development is currently recruiting for the next Goldman Sach's 10KSB Program class which will begin in May 2021. The program looks for applicants who are passionate about growing their business and creating jobs in their communities, and generally meet these criteria:
Owner or co-owner of a business
Business in operation for at least two years
Business revenues of at least $75,000 in the most recent fiscal year
Minimum of 2 employees (including the owner)

"This innovative partnership between Sinclair College and Goldman Sachs is unleashing possibilities and nurturing success for these entrepreneurs and small business owners who play such a vital role in growing jobs and our local economy," said Kandise Bobo, Program Manager – Sinclair Workforce Development. "We are incredibly proud to honor and celebrate the first graduating class of the Goldman Sachs 10KSB Program and look forward to another successful session in May."
To apply and learn more about the Goldman Sachs 10,000 Small Businesses Program at Sinclair Community College, visit: https://10ksbapply.com
To learn more about Sinclair Workforce Development programs, visit: https://workforce.sinclair.edu/
For details on all of Sinclair Community College's academic offerings, visit: https://www.sinclair.edu/