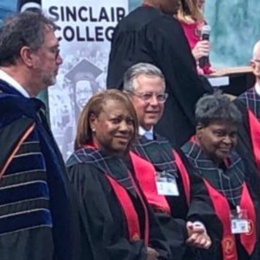 Sinclair College, Ohio Department of Youth Services and the Ohio Department of Rehabilitation and Correction will Host an All Day Symposium Focusing on the Prison Population
A free all day symposium dedicated to discussing a holistic approach to serving those who are incarcerated
When: Thursday, October 3, 2019; 8:45 a.m. – 3:45p.m.
Media is encouraged to arrive at 8:30a.m.
What: The Ohio Department of Rehabilitation and Correction has partnered with Sinclair Community College and the Ohio Department of Youth Services for a free all-day symposium dedicated to discussing a holistic approach to serving the prison population. The day will cover topics on mentorship, the importance of incarcerated parents maintaining positive contact with their children, addressing comprehensive needs of returning & restored citizens, trauma-informed approaches, and technological advances in working with those that are incarcerated.
Keynote Speaker: Chef Jeff Henderson
9:30a.m. – 10:15a.m
Chef Jeff Henderson is an American chef, bestselling author, and a nationally recognized public speaker. He is also a former felon who will keynote the event, sharing his inspirational story of redemption from having served nearly a decade in prison. Mr. Henderson currently serves as an influential and powerful voice for self-transformation. He is the creator of Food Network's reality series, "The Chef Jeff Project," and the star of the TV series, "Flip MY Food with Chef Jeff."
Where: Sinclair Community College
David H. Ponitz Sinclair Conference Center, Building 12
Corner of Fourth and Perry Streets
About: Sinclair began offering post-secondary programming to incarcerated individuals in 1987 at the Dayton Correctional Institution (DCI). The college currently serves 2,000 students through the Prison Education program. More than 6,900 career-based certificates have been awarded since 2013. Sinclair's Prison Education program also serves male and female offenders in 15 correctional institutions throughout Ohio. Correctional education helps taxpayers save thousands of dollars and continues to grow and positively impact the state. Some of the certificate programs include; Agribusiness, Social Service Assistant, Culinary Management, Business Foundations, and Entrepreneurship. A recent change in policy will also allow incarcerated students to complete associate degrees in the near future.
Sinclair is recognized as a local and national leader in delivering high-quality and affordable higher education. One of the oldest and best-known community colleges in the nation, Sinclair was founded in 1887 by David A. Sinclair and is a board member of the prestigious League for Innovation in the Community College. Sinclair offers more than 260 accredited degrees and certificates.
For more information, contact Deena John at 937-272-8200 or deena.john@sinclair.edu
###