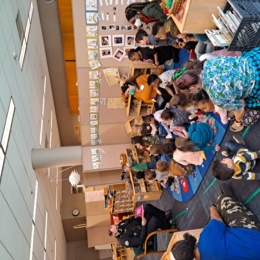 In recognition of this week's "Read Across America" celebration, Sinclair College Public Safety Officer Kurtis Green patrolled the "book beat" today as he read to children at the campus childcare center, Mini University.
Officer Green read the Dr. Seuss book, "Wacky Wednesday," which follows a child's journey through a day where everything is out of place, inside out, or upside down.
To stay safely social distanced, Officer Green wore a special mask that reads: "I will wear my mask, here or there. I will social distance everywhere!"
"This is an incredible opportunity to interact with some of our youngest campus visitors and allow them to get to know our public safety officers in a fun setting," said Chief John Huber, Sinclair Police and Director of Public Safety.
The Department of Public Safety and Sinclair Police serve the campus 24 hours a day, seven days a week providing emergency services, responding to criminal and non-criminal incidents, and providing escorts.
Mini University, Inc. provides childcare and early childhood education options for Sinclair College faculty, staff, and students.