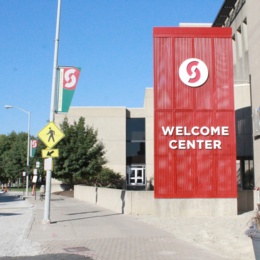 ** MEDIA ADVISORY **
When: Friday, October 11, 2019; 3:30 p.m. – 5:00 p.m
Media is encouraged to arrive at 3:30 p.m.
What: Sinclair Community College will host a rededication ceremony of the newly expanded and renovated Welcome Center to the late James W. McSwiney. The $15.3 million-dollar James W. McSwiney Welcome Center, located in Building 10, establishes the college's front door to the community and provides a centralized location to address wrap-around student support needs. The college's staff have been cross-trained in addressing student needs, and visitors to campus will now know exactly how and where to begin their Sinclair experience.
*Remarks from Margaret Hutchinson – Daughter of the late James W. McSwiney*
Where: Sinclair Community College
James W. McSwiney Welcome Center, Building 10
West Fourth Streets
About: Sinclair College has been in existence for 133 years and continues to remain the college of choice for students in the Dayton region. Sinclair is recognized as a local and national leader in delivering high-quality and affordable higher education. One of the oldest and best-known community colleges in the nation, Sinclair was founded in 1887 by David A. Sinclair and is a board member of the prestigious League for Innovation in the Community College. Sinclair offers more than 260 accredited degrees and certificates.
For more information, contact Deena John at 937-272-8200 or deena.john@sinclair.edu.
###