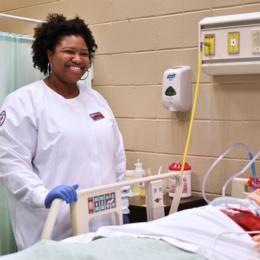 Sinclair College's Nursing Program Ranked #1 out of 107 Programs in Ohio
DAYTON, OH – A recent study conducted by NursingExplorer.com, a source for prospective students to review all nursing programs in the United States, ranked Sinclair College's Nursing Program #1 out of a total of 107 schools that were evaluated in the state of Ohio.
The study looked at data from the following sources:
US Department of Education
States Board of Nursing
Commission on Collegiate Nursing Education (CCNE)
Accreditation Commission for Education in Nursing, Inc. (ACEN)
Rankings are calculated based on the National Council Licensure Exam (NCLEX) pass rate and the average net price of the program. The higher the NCLEX pass rate and the lower the cost of the program, the greater the "return on investment" and the higher the program ranking. The results of the study revealed that Sinclair's Nursing Program was the most affordable in Ohio (out of the 107 schools evaluated) with a NCLEX pass rate of 80.7%.
NCLEX pass rate is the percentage of students who pass the NCLEX out of the total number of students who take the exam in a given year.
The average net price is the amount of money paid by students out of pocket after financial aid.
"Sinclair's Nursing program has extremely dedicated faculty who ensure graduates are highly-prepared for their credentialing exam (NCLEX) and an administration and Board of Trustees that values being affordable and accessible," said Rena Shuchat, Health Sciences Dean at Sinclair College. "We are so pleased to be ranked number one among 107 Ohio nursing programs, based on our credentialing scores and low tuition rates, providing students and the community with such a valuable program".
With nearly 30,000 unduplicated students studying over 260 areas of study that are industry and community-aligned, and over 1.5 million square feet of facilities across 24 buildings, Sinclair College is an anchor institution of Downtown Dayton. Over the years, Sinclair has experienced an increasing number of undergraduate and high school student enrollment from within an eight-county region.
Sinclair College will also offer a Bachelor of Science in Nursing degree program in partnership with the University of Dayton. The dual program between Sinclair and UD will provide career pathways in nursing, allowing students to complete a BSN in just four years.
"Sinclair College has been in existence for 133 years and continues to remain the college of choice for students from across the Dayton region," said Dr. Steve Johnson, Sinclair College President. "We are committed to providing students with the best in quality and value that a higher education institution can offer."
Sinclair is recognized as a local and national leader in delivering high-quality and affordable higher education. One of the oldest and best-known community colleges in the nation, Sinclair was founded in 1887 by David A. Sinclair and is a board member of the prestigious League for Innovation in the Community College.
Sinclair offers nearly 260 accredited degrees and certificates. For more information, contact Deena John at 937-272-8208 or deena.john@sinclair.edu.
###