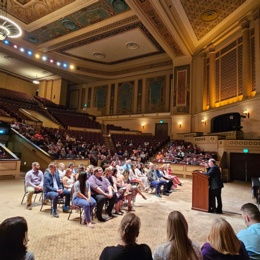 Sinclair Community College continues to meet the vital need for respiratory therapists with a record number of students graduating in Spring 2023 with Sinclair Respiratory Care associate degrees.
The 30 graduates were recognized and celebrated during a special pinning ceremony held on May 4, 2023, at the Dayton Masonic Center.
"The past two years have been incredibly challenging for each of us, but together, this class of students embraced the remarkable classroom education and critical hands-on experiences we received from the dedicated faculty of Sinclair's Respiratory Care program," said Samuel Radabaugh, 2023 Sinclair Community College Respiratory Care Program graduate. "Through the program, we have gained the confidence and skills to embark on rewarding careers and serve our community as skilled respiratory care professionals."
The 2023 graduates of Sinclair's Respiratory Care Program represent a 30% increase over last year. In Fall 2021, Sinclair College expanded its Respiratory Care Program to increase the number of students in the program by 21% to meet the severe shortage of respiratory therapists in the Dayton region.
"Sinclair Community College proudly works with our hospital partners to address the critical workforce need for skilled respiratory therapists," said Sanja B. Keller, Program Director/Department Chair for Sinclair's Respiratory Care Program. "These graduates represent an incredibly talented group of medical professionals who are passionate about caring for patients."
According to the U.S. Bureau of Labor Statistics, employment of respiratory therapists is expected to grow 23% through the year 2026. The annual mean wage for respiratory therapists in the Dayton region is nearly $65,000 annually, with significant sign-on bonuses currently offered by most employers. Over the past 10 years, 250 students have graduated with associate degrees from Sinclair's Respiratory Care Program.
During Sinclair's Respiratory Care associate degree program, students work in the field as student therapists. The coursework for this program includes human biology, anatomy and physiology, pathophysiology and assessment and treatment of all respiratory care related needs for the adult, pediatric and neonatal patient.
"Due to the high demand, we are seeing 100% employment for Sinclair respiratory care graduates," added Keller.
Sinclair Community College also offers a Respiratory Care of the Newborn Short-Term Technical Certificate.
For more information on Sinclair's Respiratory Care Program, visit
www.sinclair.edu/respiratory

###