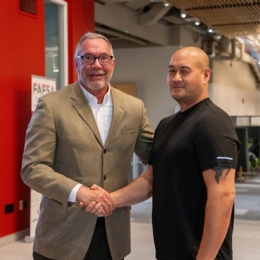 Sinclair Community College is wrapping up its Veterans Appreciation Week with the selection and celebration of the 2023 Veteran of the Year. Sinclair student and Army Veteran Terry Heathco was nominated for his perseverance through hardships and his unwavering support of fellow student veterans.
"Sinclair Community College is honored to support our veterans and recognize their selfless service and sacrifices this week and every week," said Dr. Steve Johnson, President – Sinclair Community College. "We applaud Terry for his dedication to his family, friends, and fellow veterans."
Terry is pursuing a degree in engineering and plans to graduate this fall. His nomination described him as:
"Terry is the most resilient student I've met, staying the course through COVID, a house fire, and hospitalization. He can often be found in the Veteran's lounge doing homework or encouraging other Vets to not give up. He is graduating this fall, and I am honored to know him, and so proud of his achievements!"
This is Sinclair's 4th Veteran of the Year award to be awarded. Each fall, the Sinclair Community College Military Family Education Center (MFEC) asks the Sinclair community to nominate a current veteran student that should be considered for the Veteran of the Year Award. The nominated veteran information is submitted to the MFEC Advisory Board with no identifying information and the Board chooses the Veteran of the Year.
Throughout Veterans Appreciation Week, Sinclair held events at the Dayton campus and the regional centers in Centerville, Englewood, Huber Heights, and Mason.
"Sinclair's MFEC is so proud to celebrate our military-affiliated students and show our appreciation for their service," added Becky Jones, Manager, SCO – Military Family Education Center, Sinclair Community College. "We are committed to furthering Sinclair's mission to find the need and endeavor to meet it by providing the services and support our military-affiliated students need to achieve college and career success."
In 2023, a record 490 military-affiliated students earned Sinclair Community College degrees and certificates. This is a 40% increase over 2022.
Sinclair's MFEC works with multiple internal and external partners to provide military-affiliated students with job search assistance, resume writing, interview practice, and workshops to support the transition from military to civilian life. In addition, Sinclair's military-affiliated students engage with employers for internship and career opportunities. The MFEC surveys military-affiliated students annually to determine their needs, assess what is working well, and identify challenges. Sinclair also has a dedicated Veterans Lounge and recently established the Military-Affiliated Advisory Board consisting of college leadership, students, and external stakeholders.
To learn more about Sinclair's Military Family Education Center, visit Sinclair.edu/MFEC.

###