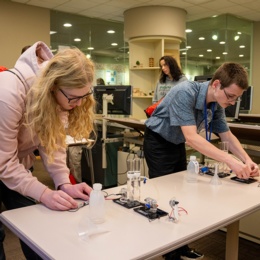 Sinclair Community College hosted nearly 200 high school students for Engineering & Technologies Day at the Dayton campus on Friday, November 3, 2023. The event introduced students and parents to Sinclair's science, technology, engineering, and mathematics (STEM) programs.
Students toured Sinclair's state-of-the-art facilities while learning about education and career paths in advanced manufacturing, automotive, aviation, biotechnology, engineering, and robotics.
"Sinclair Community College is proud to offer this remarkable opportunity for high school students to gain a deeper understanding of STEM industries and to begin envisioning their own bright futures within these dynamic fields," said Karl Hess, Dean – Sinclair Community College Science, Mathematics, and Engineering (SME) Division.
Participating schools included Bethel High School, Butler Tech, Dayton Early College Academy (DECA), Miami Valley Career Technology Center (MVCTC), Milton Union High School, Springfield Clark Career Technology Center, and Warren County Career Center.
Sinclair's SME Division offers more than 90 associate degrees and certificates and three bachelor's degrees including the new Integrated Systems Technician degree that focuses on both cybersecurity and robotics. These programs provide students with the skills they need to begin rewarding and lucrative careers that pay a family-sustaining wage. Learn more by visiting Sinclair.edu/SME.
###
Photo Caption:
L to R - Students Camden Heil and Carson Miller participate in Sinclair Community College Engineering and Technologies Career Exploration Day