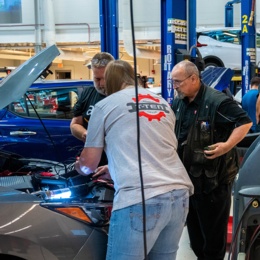 Sinclair Community College's Automotive Technology Department has received a $153,000 Zero Emission Vehicle (ZEV) Education and Awareness, STEM and Workforce Development grant from Electrify America. The funding will allow Sinclair to provide free training and information sessions for automotive technicians and high school students to help meet the growing demand for skilled electric vehicle maintenance and repair workers.
"Sinclair Community College is grateful to Electrify America for providing this innovative workforce development opportunity that will enhance and strengthen our efforts to train and educate more individuals for rewarding careers in ZEV technology," said Justin Morgan, Chairperson – Sinclair Community College Automotive Technology.
As factory warranties expire on ZEVs, many owners are expected to turn to independent repair facilities as a lower-cost alternative to new-car dealerships for maintenance and repairs. Unfortunately, many automotive technicians working in independently owned shops do not have access to training related to servicing ZEVs due to cost, low frequency, and/or the need to travel to training locations. Through the Electrify America grant, Sinclair's Automotive Technology Department will address those issues by providing:
Free, quarterly 12-hour training courses for up to 56 incumbent automotive tech workers so they can learn how to perform maintenance on ZEVs. One session will be held per quarter (April, July, and December 2023, and February 2024).
"Junior Visit Days" (October and November 2023, January and February 2024) to expose approximately 120 high school juniors to emerging technology in the automotive field including ZEV accessibility, operations, and maintenance.
Two public-facing Q&A sessions about ZEVs with hands-on demonstrations and discussions about various efforts to increase the ZEV charging infrastructure across the country. The first will be held at Sinclair Community College in conjunction with the conclusion of Drive Electric Week on October 1, 2023. The second Q&A session will be held at the Dayton Metro Library location in downtown Dayton in December.
Sinclair Community College will have more information about the training courses and other events in the coming weeks.
The initiative is part of Electrify America's ongoing efforts to support electric vehicle (EV) education and awareness across the U.S., as well as support the critical need for a future EV workforce to continue to power the transition to electric transportation. These programs will address the need to educate students and the workforce about EVs and provide on-the-job vocational training.
Sinclair Community College is no stranger to electric vehicle training Over the past several years, Sinclair's Automotive Technology Department has offered electric vehicle technology training to instructors from across the country. In addition, Sinclair was recently named as the Electric Vehicle Association's EV Organization of the year for 2022.
Over the past five years, over 400 Sinclair students have graduated from the Automotive Technology programs. In addition, Sinclair's Automotive Technology program has successfully upskilled 60 incumbent workers in the past four years through workforce development programs.
To learn more about Sinclair's Automotive Technology degrees and certificates, visit Sinclair.edu/Automotive.
###
About Electrify America
Electrify America LLC, the largest open DC fast charging network in the U.S., is investing more than $2 billion in Zero Emission Vehicle (ZEV) infrastructure, education and access. The investment will enable millions of Americans to discover the benefits of electric driving and support the build-out of a nationwide network of ultra-fast community and highway chargers that are convenient and reliable. Electrify America and Electrify Canada expect to have more than 1,800 total charging stations with over 10,000 individual chargers in the United States and Canada combined by 2026. During this period, Electrify America will be expanding to 49 states and the District of Columbia, supporting increased ZEV adoption with a network that is comprehensive, technologically advanced and customer friendly.
Electrify America earned the 2020 and 2021 "EV Charging Infrastructure Best-in-Test" award from umlaut, an infrastructure and benchmarking specialist, now part of Accenture, as published in Charged Electric Vehicles Magazine. Electrify America's Electrify Home® offers home charging solutions for consumers with flexible installation options. Electrify Commercial® provides expert solutions for businesses looking to develop electric vehicle charging programs. For more information, visit www.electrifyamerica.com and media.electrifyamerica.com.
About Sinclair Community College
Sinclair Community College offers more than 300 degree and certificate programs, including specialized and technical areas of study that are in high demand in the Dayton region. Sinclair is recognized as a local and national leader in delivering high-quality and affordable higher education. One of the oldest and best-known community colleges in the nation, Sinclair was founded in 1887 and is a board member of the prestigious League for Innovation in the Community College. Learn more at Sinclair.edu.