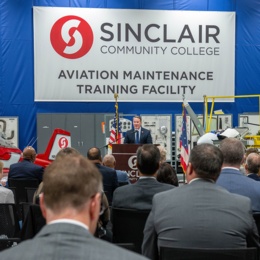 Sinclair Community College proudly unveiled its new cutting-edge Aviation Maintenance Training Facility on Monday, November 6, 2023, marking a significant milestone in the college's commitment to aerospace education and workforce development. Ohio Lt. Governor Jon Husted served as keynote speaker during the grand opening event which was attended by federal, state, and local dignitaries, aviation industry leaders, and education partners.
"Having the facilities to prepare more Ohioans for the high-skilled, high-paying aviation jobs open in the region and across the state is key to our economic success in the industry," said Lt. Governor Husted. "Through collaborations like this, we can continue to make Ohio the heart of aviation and prepare our students for these in-demand jobs now and in the future."
Located in a newly renovated hangar at the Dayton International Airport, Sinclair's Aviation Maintenance Training Facility provides students with the latest technology and hands-on experience required for careers in the aviation maintenance industry.
"The continued successful growth of the Dayton region depends on access to a high-quality and well-trained workforce for in-demand careers. Sinclair's new Aviation Maintenance Training Facility will empower our students with the skills and knowledge they need for success in the aviation industry," said Dr. Steven Johnson, President – Sinclair Community College. "Endeavors like this could not be accomplished without collaboration among public and private partners. Sinclair Community College is incredibly proud to be working with the City of Dayton and aviation industry partners to ensure economic success for individuals, families, and businesses in the Dayton region."
Sinclair's Aviation Maintenance Training Facility contains two classrooms, two lab spaces, and is dedicated to aircraft mechanics and aviation service maintenance coursework and hands-on training. The renovation accommodates commercial aircraft, equipment, and training/lab space for instruction.
"Graduates of this program will be well-positioned for high-paying mechanic and maintenance jobs locally with PSA Airlines, Air Wisconsin, and other airline and aviation companies," added Gilbert Turner, Director of Aviation – Dayton International Airport. "This partnership will strengthen the viability of the Dayton region's air travel economy."
According to the U.S. Bureau of Labor Statistics, employment of aircraft and avionics equipment mechanics and technicians is projected to grow 4% through the year 2032, with 12,800 openings projected each year, on average, over the decade. The median annual wage for aircraft mechanics and service technicians is approximately $70,000.

-more-
"Sinclair's new Aviation Maintenance Training Facility sets Ohio apart when it comes to shaping the future of air travel. The program's graduates will support the region's growth in aerospace manufacturing and maintenance industries, with in-demand jobs and lucrative career paths waiting for them. Thank you to Sinclair College, the City of Dayton and the Dayton International Airport for this unique opportunity, and I wish the students enrolling in this program great success," said Jeff Hoagland, President & CEO – Dayton Development Coalition.
Over the past five years, 210 degrees and certificates have been awarded through Sinclair's Aviation Maintenance programs. 148 students are currently enrolled in Sinclair's Aviation Maintenance programs.
Sinclair's Aviation Technology Department receives tremendous community support. Nearly $750,000 in equipment has been donated to support Sinclair's Aviation Technology Department and more than $850,000 has been donated to support scholarships for Sinclair aviation students.
Sinclair's Aviation Technology Program offers 19 degrees and certificates including two bachelor's degrees: Professional Pilot and Unmanned Aerial Systems. Visit Sinclair.edu/Aviation to learn more about Sinclair's aviation programs.
###
Photo Caption: Ohio Lt. Governor Jon Husted provides remarks during the opening ceremony of the Sinclair Community College Aviation Maintenance Training Facility.