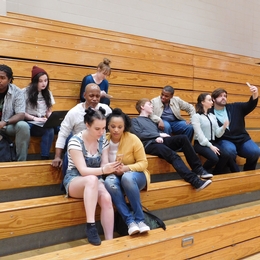 Sinclair Theatre will present Blood At The Root by Dominique Morriseau, for 5 performances only April 11-15 in Sinclair's Black Box Theatre, Building 2 on the downtown Dayton Campus.
The play, directed by Chris Harmon, is inspired by the racially divisive 2006 case of the Jena Six involving black teenagers accused of an attack on a white schoolmate. Interlocking prejudices are laid bare, and the story screams for improved communication between us all.
Cast includes: S. Francis Livisay, Justin Lampkins, Elisha Chamberlin, Paige Jacobs, Amber Smith, Chelsey Hall, Karley Holdeman, Christopher Goetz, DeShawn Christian, and Valkyrie Williams.
Performances are at 7 p.m. on Wednesday and Thursday, with 8 p.m. performances on Friday and Saturday, ending with a 2 p.m. matinee on Sunday. Doors will open approximately 30 minutes before curtain with only 75 general admission seats in the round (audience surrounds the stage) per performance. Tickets available online now for $10 each at: www.sinclair.edu/tickets. ASL interpreted performances on April 12, 14 & 15. Make sure to get your tickets early as performances may sell out.
As a BFA theatre student at the University of Michigan, Morriseau was disheartened by the type and number of acting roles available to her, so she began writing them and has quickly become one of the hottest playwrights of her generation. She is perhaps best known for her 3-play cycle "The Detroit Project" and is executive story editor on Showtime's "Shameless." Her play "Pipeline" opened to critical acclaim last summer in New York's Lincoln Center. She is a two-time winner of the NAACP Image Award, which celebrates the outstanding achievements and performances of people of color in the arts, as well as those individuals or groups who promote social justice through their creative endeavors.
Blood At The Root is sponsored in part by Sinclair's Diversity Office.