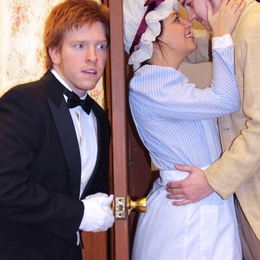 Sinclair Theatre will present the hilarious sex farce, A Flea in Her Ear, by Georges Feydeau, April 4-12, in Blair Hall Theatre, located in building 2 of the Sinclair Community College downtown Dayton campus.
Translated by director Nelson Sheeley, A Flea in Her Ear has been called "the perfect farce" for good reason. It involves a large cast with mistaken identities, faithless and faithful spouses, a letter, a hotel, a naughty maid, a bellhop and a few gunshots.
Cast includes: Skyler McNeely, Katie Beyoglides, David Brandt, Sydney Back, Tray Shelton, Woody Hieb, Jonathan Sheehan, Destre Inlow, John Ray, Anna Sheldon, Jessica Zula, Katie Paeg, Kory Copeland and Bill Styles
Performances are Fridays and Saturdays at 8 p.m., one Sunday April 6th matinee at 2 p.m., and a Downtown Dayton Thursday Nights performance at 7 p.m. on April 10th.
All seats are reserved and cost $15 for adults and $10 for students, seniors and Sinclair employees. ALL Thursday tickets cost an additional $5 each and include pre-show appetizers and cash bar beginning at 6 p.m. in the lobby for Sinclair's popular Downtown Dayton Thursday Nights.
Tickets are on sale now at: www.sinclair.edu/tickets.
If you need further assistance, leave a message at 937-512-2808. A student box office agent will return your call as soon as possible. The box office is open one hour prior to performances.