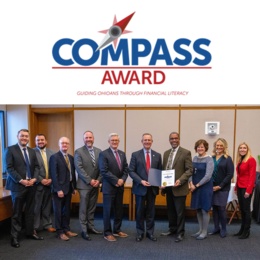 On Tuesday, January 24, 2023, Ohio Treasurer Robert Sprague presented Sinclair Community College with a Compass Award for placing special focus on student success through innovative programs.
The Compass Award is a monthly recognition program that commends organizations, programs, and individuals across the state who are working to guide Ohioans toward financial literacy and empowerment. Sinclair was named the December 2022 Compass Award honoree.
"Sinclair Community College has proven to demonstrate a commitment to preparing students for financial success during their years in school and beyond," said Sprague. "Sinclair is making a difference in the community through a variety of personal finance resources and strategic partnerships, and we're proud to recognize their efforts."
Students have access to a variety of interactive and innovative resources aimed at improving their understanding of personal financial management. Areas of instruction cover topics like housing, budgeting, saving, investing, and managing tuition and student loan expenses.
Through its partnership with the University of Dayton and the UD Sinclair Academy program, the college is also helping students work toward multiple four-year degree pathways.
Sinclair Community College has also established a statewide presence through its Advance Job Training program, which offers education and skills training in all of the state's prisons and six juvenile facilities. Enrollment in the program has more than doubled since 2020, and more than 15,600 certificates and degrees have been earned under the initiative over the past decade.