Retail Management
RMC.S.STC
Short-term Technical Certificate - 24 Credit Hours
Division: Business and Public Services
Department: Management
Effective as of Fall 2017
Sinclair Community College introduces the Retail Management Certificate funded through The League for Innovation in the Community College and endorsed by Western Association of Food Chains. This program will benefit anyone interested in continuing their education who wants to advance in their career in the retail industry. No matter what area of the industry you are interested in, this program will expand and enhance your career options. Career opportunities are available in all areas of business including sales, marketing, management, customer service, accounting, merchandising, design, logistics, information technology and human resources.
Questions about this program? Contact us!
Prospective employers and interested students can contact Rocky Belcher, Chair at 937-512-5702 or email rocky.belcher@sinclair.edu for more information about the Retail Management Program.
Important Information
COMPETENCY-BASED - sessions start every two weeks throughout the semester. Competency-based classes allow students to receive credit for material they already know and accelerate through the program.
Grant funding is available to incumbent retail workers from qualified employers. For more information about this funding please contact 937-512-3722 or email dennis.brode@sinclair.edu.
Our grant funding covers tuition only. You are responsible for textbooks.
Any developmental courses required, from results of ALEKS testing, will be an additional requirement of the program.
Required Courses for the Certificate
The Retail Management Certificate is an 8-course community college program that prepares individuals for career advancement in the fast-paced retail sector. The curriculum has been carefully designed by retail industry and community college experts to deliver the competencies considered critical for managerial success. Students will earn three certificates during the program. The Retail Management Certificate is issued by the Western Association of Food Chains and is recognized throughout the retail industry.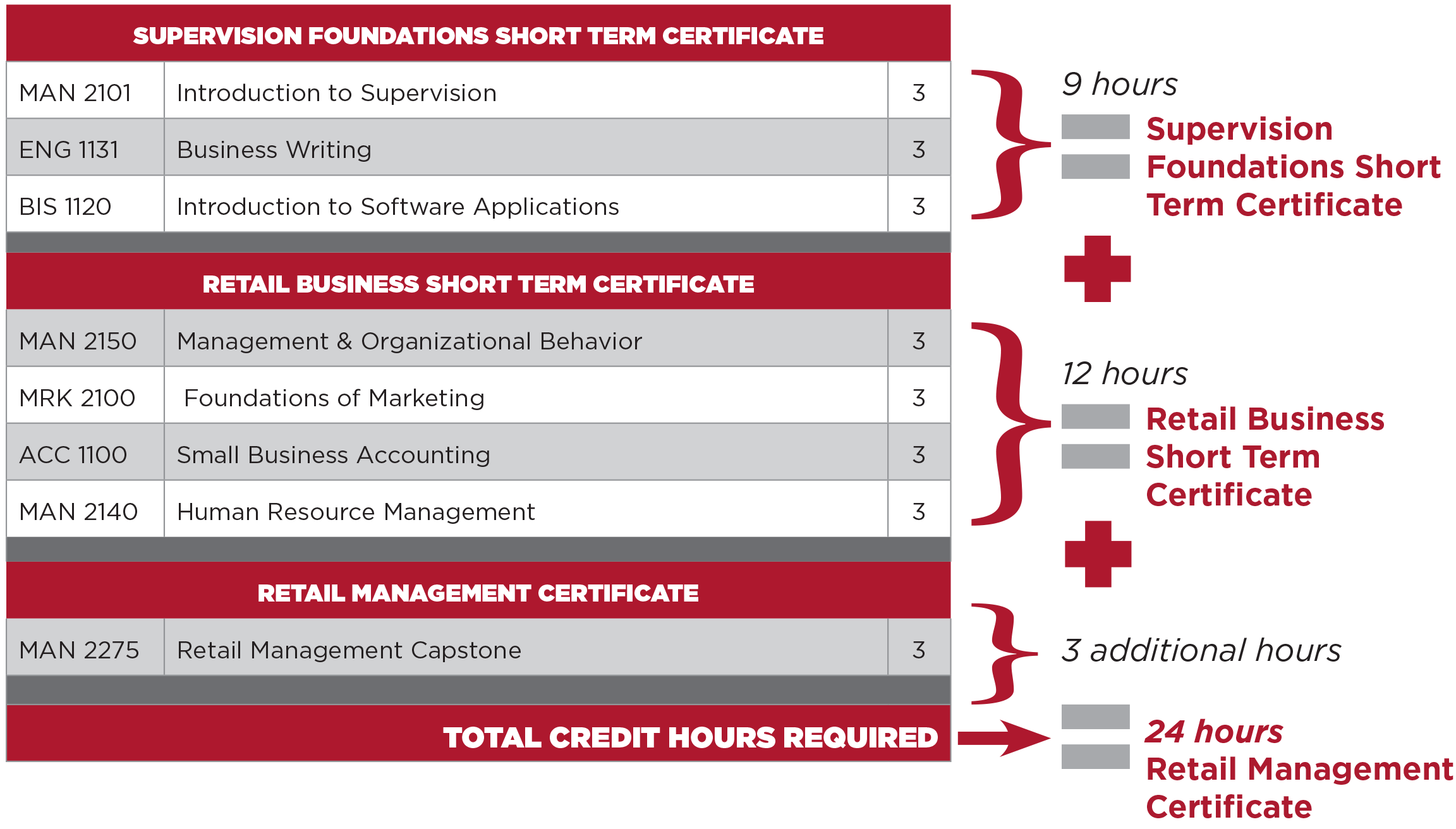 What is the program about?
The Retail Management certificate is a business program where students learn the key skills needed for retail management success. The Retail Management certificate gives students more of the basic tools needed to be a successful supervisor or manager in any business or industry, including retail, hospitality, healthcare, manufacturing and service industries. This certificate enables students to further build and develop their skills toolbox that will enable them to be successful in the workplace.
Program Outcomes
Identify the interrelationships among standard financial reports and analyze financial information to make business decisions.
Demonstrate communication principles and critical thinking through written and oral formats and employ software tools (e.g., Microsoft Word, Excel, PowerPoint) to produce professional quality business communications to address a variety of situations.
Evaluate the effectiveness of merchandising decisions in the retail industry and explain the factors relating to visual merchandising, such as store layouts and presentation.
Discuss how the marketing mix is used to address the needs and wants of consumers and the strategic function that marketing plays in the profitability of a business.
Define how individual and group human behavioral theories and concepts are applied in the workplace.
Explain the roles, responsibilities, and accountability of managers in planning, organizing, leading, and controlling within an organization.
Career Opportunities
The Retail Management Certificate program was created by experts in the industry to provide relevant knowledge and skills to their workforce. This program has successfully prepared nearly 2,000 graduates for management positions. Employees and employers benefit directly from the higher level of self-confidence and engagement displayed by graduates. Recently recognized by the White House as part of the Upskill Initiative, the certificate is currently available in a variety of formats including face-to-face, on-line, and in a competency-based model. The certificate program was established under the direction of the Western Association of Food Chains which includes many of today's leading retailers and wholesalers, and 7,500 + supermarkets. The program also has endorsement from leading organizations including Food Marketing Institute (FMI) and National Grocers Association (NGA). Most recently, the Retail Management Certificate has gained recognition from highly respected entities such as the ACT Foundation, and the U.S. Department of Labor.
Credentials
Students will earn the Sinclair Retail Management Certificate as well as an industry recognized credential from the Western Association of Food Chains. This certificate is also endorsed by national associations such as FMI (Food Marketing Institute) and NGA (National Grocers Association).
Additional Information
This program is available in the following format:
- View the Master Syllabus - View the Course Schedule
This information is for planning purposes only. Sinclair College will make every effort to offer curriculum listed above but reserves the right to change, add and cancel curriculum offerings for unforeseen circumstances.