African American Male Initiative (AAMI)
The African American Male Initiative (AAMI) is a completion initiative designed to help young men find their passion, walk in their purpose, and reach their potential.
Specifically, the purpose of the program is to retain students from term to term, insuring that students maintain a GPA in good standing, experience personal and professional development, and complete their degree/certificate on time (within 2-3 years). This program is culturally relevant and supports men of color at their level of need, whether it is academic, professional, social, or emotional.
Visit the Student African American Brotherhood (SAAB) National organization.
AAMI Students as of Spring Semester 2020
70% persistence rate for AAMI students during spring 2020
3.0 Average cumulative GPA among AAMI 2020 graduates
2 years, 1 semester (or 7 terms) is the average time of degree completion among 2020 graduates
7 AAMI 2020 graduates are entrepreneurs
2020 Graduates from AAMI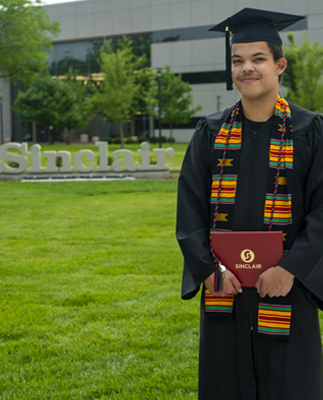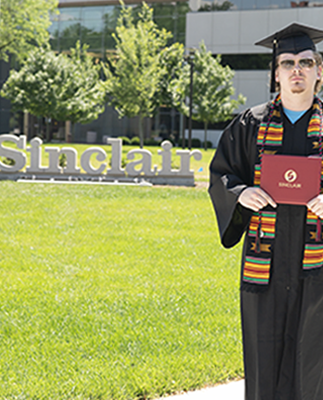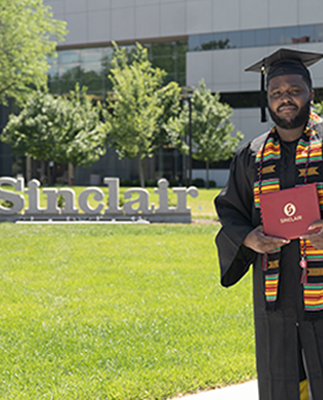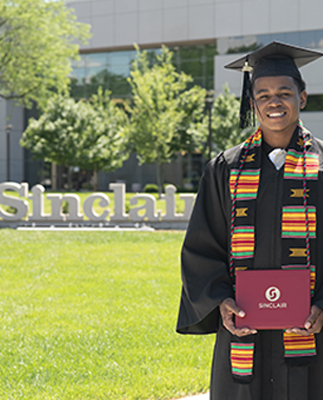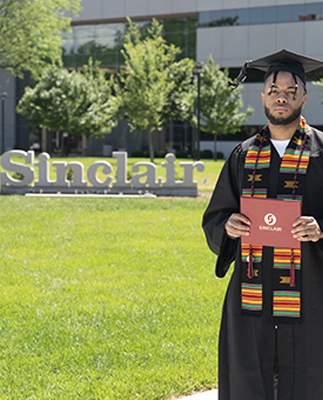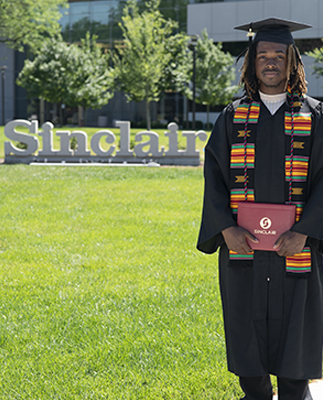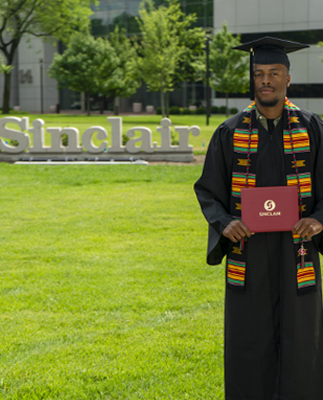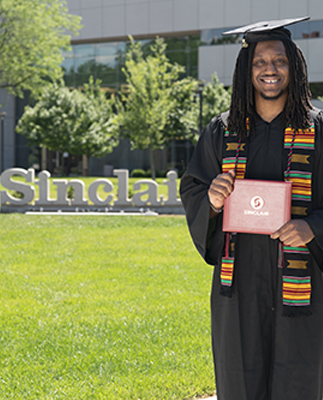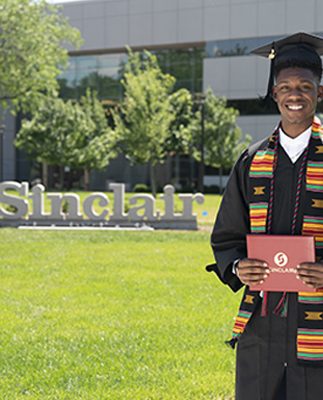 Brother 2 Brother Meetings for Spring Semester 2021
Our Brother 2 Brother meetings are informative and impactful! We work to bring topics that will help to develop our students academically, professionally and personally.
All meetings are on Friday's at 12:00 p.m. via Zoom (Links below). As soon as we are able to gather in a safe and healthy manner as defined by the CDC and Sinclair College, we will return to the AAMI office, located in Building 8, Room 8-027 unless otherwise posted.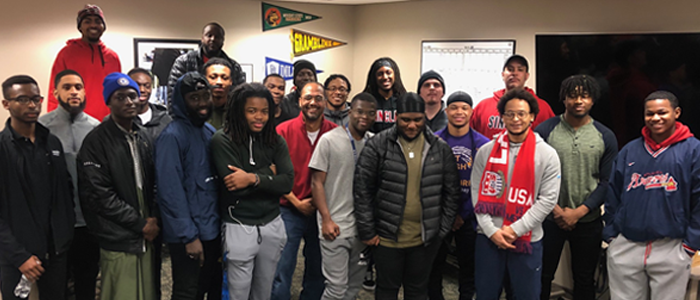 SPRING SEMESTER 2021 BROTHER 2 BROTHER MEETING SCHEDULE:
Brother 2 Brother Meetings for Spring 2021 have been moved to an online format. Zoom link in each bio.
January 22, 2021
Ronnel Hunt is a journalist from Pittsburgh, PA working locally with NewsCenter7. ; He will share his journey from PA to WV to OH, with the Brothers of the AAMI.
Join via Zoom: https://sinclair.zoom.us/j/82704959628?pwd=VC8xZmJyZVV2T1Z2dVJ0eFdmSkhBUT09
January 29, 2021
News Media and Black Culture Basim Blunt, Project Coordinator Dayton Youth Radio
Basim is an independent media producer and the founding producer of Dayton Youth Radio, a public radio series and NPR Podcast. The series features stories from over 200 high school students from Southwest Ohio. Basim has been teaching, writing and producing media for over 15 years with clients including PBS, University of Dayton, NewsOne Radio, Planet Money and FOX 45 TV Atlanta. He won an Associated Press award for Best Use of Sound for the radio documentary "Boogie Nights." Blunt has created vivid multi-media set designs for live theater productions with the Central State University Theater Program. Basim lives in Yellow Springs, Ohio where he is an adjunct professor at Antioch College and hosts a Friday evening music show on 91.3 WYSO-FM called "Behind the Groove."
Join via Zoom: https://sinclair.zoom.us/j/88613203374?pwd=aVBIRDBPNE56KzhoKytYdlVTT3RnQT09
February 5, 2021
Engineering with John Gibson, PhD
Dr. Gibson holds a bachelors in Computer Engineering from Bethune-Cookman, and a Doctorate of Philosophy in Electrical Engineering from Florida International. John practices Brazilian Dance martial arts and is pursuing a patent on a hoverboard. John is an amazing engineer and youth in STEM advocate.
Join via Zoom: https://sinclair.zoom.us/j/84267762816?pwd=KzNOalNjZEhtSDNhSS9OOEVUTGNDdz09
February 12, 2021
Self-Care, Especially Now with Frederick L. Cox, III
Fred is a community advocate and activist.
Join via Zoom: https://sinclair.zoom.us/j/82273592761?pwd=ZXNYTUs3Ymt2ZmF3TDdxa1pqSlhQUT09
February 19, 2021
The Mecca and the Relevance of HBCU's with Dr. Parris Carter
Dr. Carter is the Associate VP of Student Affairs at Howard University. A Wright State graduate, prior to Howard Carter was Dean of Students at Wilberforce University, Executive Director of Student Affairs at Pitt-Titusville.
Join via Zoom: https://sinclair.zoom.us/j/84882242197?pwd=ZmdDTVRUajFKNkJQSlAyamR5OFpNdz09
February 26, 2021
Know Your Rights with Myla Cardona-Jones. Sinclair Faculty in Legal Studies
Join via Zoom: https://sinclair.zoom.us/j/84550007577?pwd=Yy9CZUVMbmxJbXd1REkzV2NIbDNGdz09
March 5, 2021
Education and Recidivism with Professor Quin Howard, Sinclair Faculty AJT
Join via Zoom: https://sinclair.zoom.us/j/84244483435?pwd=MVBaMXg5UjNXMHdINW9Ic3JOSUxCQT09
March 12, 2021
No Meeting: Spring Break
March 19, 2021
Paralegal, Black and Professional with Eric Walker
Walker is a Central State University graduate as well as a Paralegal
Join via Zoom: https://sinclair.zoom.us/j/86500381552?pwd=WFZnR0FxRkhkeEgzYUdYUmVTVzNzZz09
March 26, 2021
Why Economics with Professor Robert Menafee, Sinclair Faculty Economics
Join via Zoom: https://sinclair.zoom.us/j/87980435232?pwd=QXY5U2NjWjF2M1hDbG5ZdWZCU1Q3QT09
April 2, 2021
Young, Black and Gifted with Darius Beckham, City of Dayton Legislative Aide
Darius serves as a legislative Aide directly to the Mayor Nan Whaley, as well as support staff for the Mayors Police Reform Group addressing Use of Force Policy. Darius is a Dayton Native and graduated from University of Dayton.
Join via Zoom: https://sinclair.zoom.us/j/86150299927?pwd=THJUMGFPZUw2Q2FhcEh1ZnVZQ3hiUT09
April 9, 2021
Diversity, Equity and Leadership with Dr. Derrick Tillman-Kelly, Director of the UIA Fellows Program and Network Engagement for the University Innovation Alliance.
Join via Zoom: https://sinclair.zoom.us/j/87415681452?pwd=S3ZpdXpkc3dFRmhKTmVlYkdGSy9kQT09
April 16, 2021
Cybersecurity, Hip Hop and COVID-19 with Kevin Carter
Kevin Carter holds a bachelors in Computer Science, works and teaches cybersecurity and is a hip hop artist. Kevin annually hosts "For Dayton, By Dayton" a benefit concert exclusively for local artists.
Join via Zoom: https://sinclair.zoom.us/j/82949420877?pwd=ZUd5RmNHc2FVS0N3OWZYV1BiTE9ydz09
April 23, 2021
Save Yourself, Save the World: John Moore and Black Manhood with Peter Matthews,Founder of the Global Village.
Peter is also the Senior Pastor of Grace United Methodist as well as Leading McKinley United Methodist as Pastor and overseer.
Join via Zoom: https://sinclair.zoom.us/j/86457018172?pwd=WU5uMWt3Z29NTlRqUTN5VVY3WE1GUT09
April 30, 2021
To Be Determined (Meeting or Cancel in Lieu of AAMI Family and Friends Night)