Heating, Ventilation, Air Conditioning, and Refrigeration Technology
---
The HVAC-R Technology program develops well-rounded students prepared for careers or additional education in the HVAC-R field. Students in the certificate program are prepared for entry-level careers in residential and light commercial HVAC-R installation, with introductory training in service. Students completing the ETAC/ABET accredited Associate Degree are prepared for a variety of careers in commercial/industrial HVAC-R as well as to continue on for a Bachelor's degree.
Why major in HVAC-R Technology?
ETAC/ABET accredited curriculum balances theory and practical applications. The HVAC-R Technology program's objectives are to prepare students with the technical and Site Managermanagerial skills necessary to enter careers in the design, application installation, manufacturing, operation, marketing and maintenance of heating, ventilating, air-conditioning, and refrigeration systems. Students completing the sequence of courses will have competence in the program areas of air-conditioning processes, heating/cooling load calculations, ventilation principles, pipe and duct sizing and design, controls, and system components.
This area of study might be for you if:
You enjoy hands-on activities and working with different HVAC-R technologies.
You find the HVAC-R Technology field to be interesting and want to learn more.
You are interested in gaining skills needed by individuals and businesses across the nation.
You would like to work in an industry that is ever-changing and advancing.
Program Outcomes:
Demonstrate an in-depth understanding of service, maintenance, installation, troubleshooting, commissioning, sizing, performance characteristics, and documentation processes for commercial HVACR systems and subsystems via the application of industry accepted techniques, methods, and tools including but not limited to handbooks, manuals, codes, and software
Communicate effectively in a technical environment, including written and oral communication, effective listening, and technical presentation • Recognize professional, ethical and societal responsibilities, respect diversity, and commit to lifelong learning
Apply principles of mathematics, physics, chemistry, thermodynamics, psychometrics, and fluid mechanics to HVACR systems
Apply principles of environmental safety and health to HVACR system operation, maintenance, troubleshooting, and design
Available Programs
For program specific information click on the program below:
Career Paths and Opportunities in Engineering Technology Areas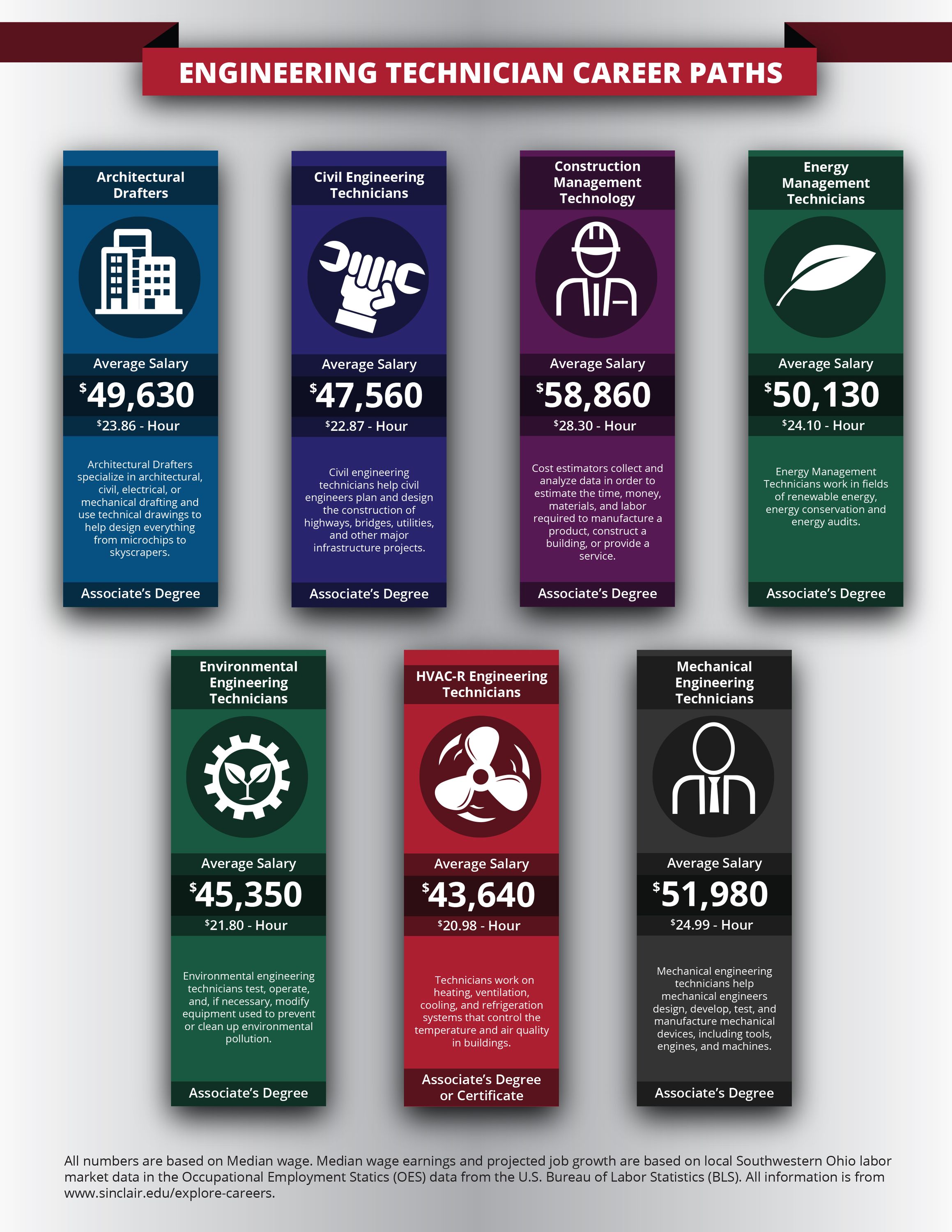 Download PDF of Engineering Technician Career Paths
Accreditation
The HVAC-R Engineering Technology Associate degree program is accredited by the Engineering Technology Accreditation Commission of ABET. View program enrollment and graduation statistics.
Pursuing accreditation by the Partnership for Air-Conditioning, Heating, Refrigeration Accreditation (PAHRA) in lieu of ABET.