Agriculture
Agriculture is the cultivation of land and breeding of animals and plants to provide food, fiber, medicinal plants and other products to sustain and enhance life. Individuals seeking an agricultural degree or certificate can to tailor their education toward a specific area of interest within agricultural studies. The major areas of concentration are: Animal Production, Agronomy, Agribusiness, Large Animal Science, Precision Agriculture, and Agricultural Equipment Operator.
Why choose this career path?
Agricultural is paramount to sustaining life on earth. The number one career field in the Miami Valley region looking to employee individuals is agriculture. The average American farmer is in their 50's, and the demand for younger farmers and sustainable agriculture is growing every year.
Sinclair is offering agricultural technology courses to meet the increasing demands of agriculture and fresh produce. Our programs teaches students the necessary skills they need to succeed in the industry. Programs include courses from technical and specific areas as well as the general education base related to agriculture to fulfill the educational need for agricultural experts within the Miami Valley.
This area of study might be for you if:
You enjoy being close to nature and involved with plant and animal life.
You don't mind getting your hands dirty and some hard work.
You would like to provide a valuable resources to your community.
You are interested in gaining strong agricultural, animal handling and husbandry skills.
You want to enter a business profession connected to agriculture and husbandry.
For more information about the Agriculture programs, contact Dawn Allen, at 937-512-4190 or dawn.allen2588@sinclair.edu.
Available Programs
For program specific information click on the program below:
Related Programs
The below programs are offered at Sinclair from other academic departments, which are related to agricultural careers:
---
Career Paths and Opportunities in Agriculture Areas
Agriculture related jobs are projected to have a 37% increase over the next 10 years.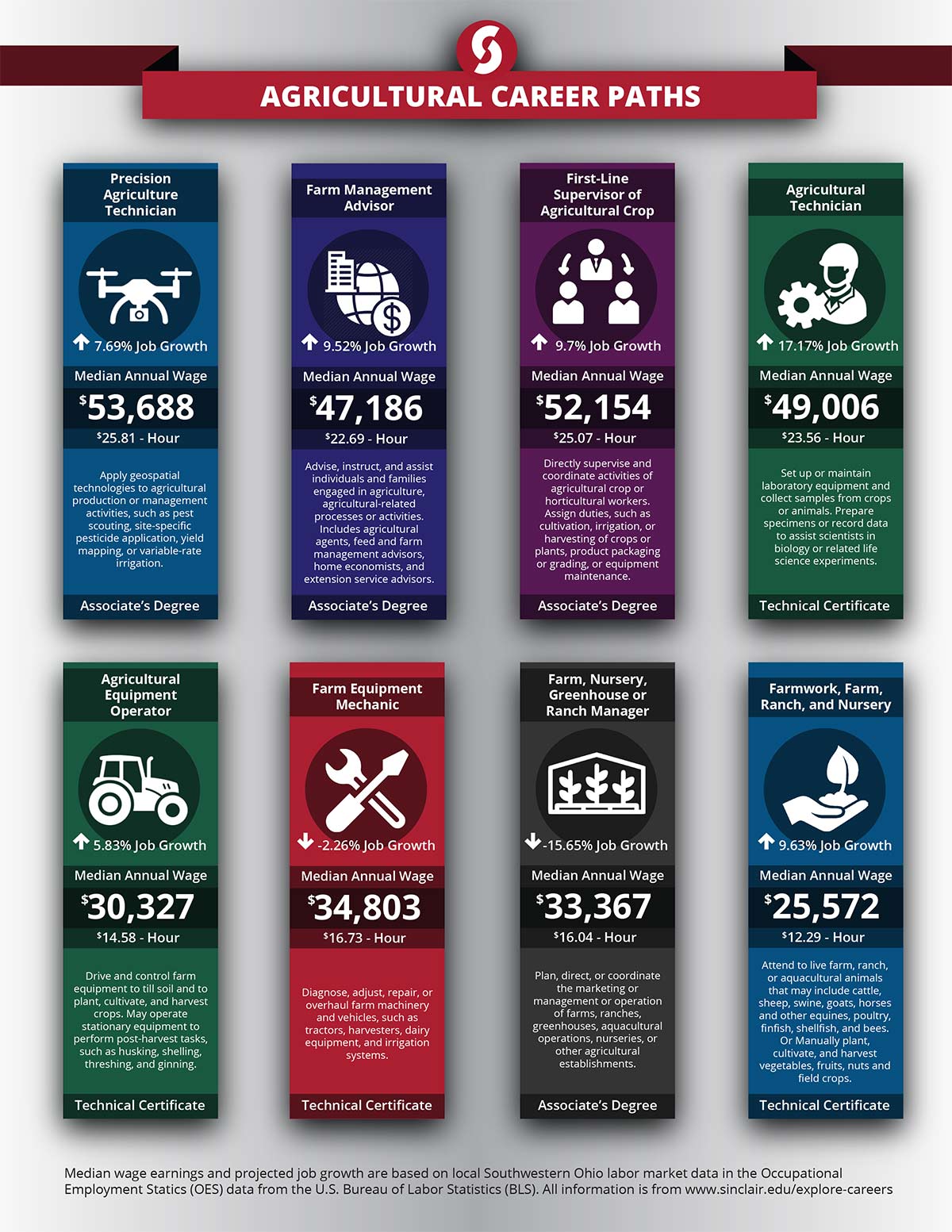 Download printable and accessible PDF of Agricultural Career Paths